American entrepreneur Bowei Gai is in Australia right now. That's not too remarkable in itself, but his visit to Melbourne right now is one of 36 city stops in 29 countries that Bowei will make this year as he travels the globe for his World Startup Report project. He tells us that it's a self-funded effort to create 29 startup ecosystem reports for each nation he visits. On the way, Bowei will rely on the kindness and assistance of fellow entrepreneurs as he takes part in events at each stop so as to drum up enthusiasm for the crowdsourced data that will ultimately shape his reports.
Started in India on the first day of the year, Bowei's adventure runs through to the final stop in Singapore in September. He explained to TechinAsia today that this all started as a hobby. When he made a China startup report in 2011 just for colleagues to check out, that infographic slideshow went viral and eventually proved to be the seed of the idea for the global expedition. "I felt a need for these kinds of reports," he says, to provide both insights and overviews of startup ecosystems around the world – things that could be used by new startups and general tech enthusiasts alike.
Melbourne to Sydney
Bowei's Melbourne stop is a good example of how the World Startup Report works. At each city there'll be a series of talks and panel discussions hosted by local startup luminaries, and Bowei will get assistance in setting up meetings that will help him gauge the players from the newest startups to the most notable VCs in that area. Then he puts a Google Document online where those with local startup knowledge can help crowdsource all the needed details and data. The Australian document is here.
In Melbourne, Bowei is being hosted and helped out by Stuart B. Richardson, a managing partner at Adventure Capital and founder of the York Butter Factory, an impressive repurposed industrial building that's now, as my colleague Vanessa said when she visited last summer, a really awesome co-working space.
The World Startup Report's previous stop, India, was the longest that there'll be, clocking in at three weeks in length. On that occasion Bowei got backup from Benjamin Joffe, whom readers might recognize as one of our Startup Arena judges. The filled-in Gdoc for India gives a good sense of how much crowdsourced input that people will have – and just how much of a task it will be to turn all that into a coherent report.
He's arriving in Sydney tomorrow, and there'll be an event at Fishburners on February 4th for which there are still some free tickets available.
Crowdsourced wiki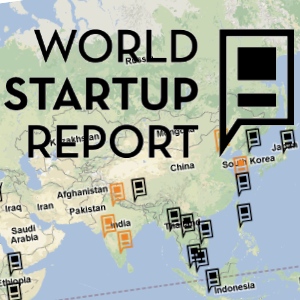 Bowei admits that it's all harder than he thought, and that, three weeks into the vast World Startup Report project, he sees that it can be tough to "squeeze out time to write reports" in between all the events, meetings, and flying. He's writing them as he goes along, and we can expect to see the first report published "near the middle of the trip."
Aside from the reports, the project will also yield a community wiki which can be updated by nominated country "ambassadors", with a wiki for each country. This sounds like a particularly nice way to create something long-lasting and easily updatable from the whole trip.
Bowei, whose own startup CardMunch was sold to LinkedIn, says that no country's startup ecosystem is harder to tackle than another, no matter how mature or unformed the entrepreneurial landscape is there. He tells us that he's keen to explore the relatively new startup scene in Myanmar, which recently showed its enthusiasm by holding what might be the world's largest ever Barcamp event.
The next stop for Bowei, who was born in China and moved as a child to the US, is Colombia, which will come after a much-needed break for Chinese New Year that he'll spend in Hong Kong. After that, the stops in Asia to look out for are:
April 3 – 13 in Manila, Philippines
April 13 – 19 in Yangon, Myanmar
April 19 – 26 in Bangkok, Thailand
April 26 – May 3 in Kathmandu, Nepal
August 10 – 17 in Seoul, Korea
August 17 – 26 in Tokyo, Japan
August 26 – 31 in Taipei, Taiwan
August 31 – September 4 in Ho Chi Minh, Vietnam
September 4 – 11 in KL, Malaysia
September 11 – 17 in Jakarta, Indonesia
September 17 – 24 in Singapore
Yes, China is not on the list, but his startup report for that country will get an update.
You can catch @bowei on the move on his personal Twitter or follow updates on @worldstartuprpt. Here's the full World Startup Report itinerary in map form:

View World Startup Report in a larger map