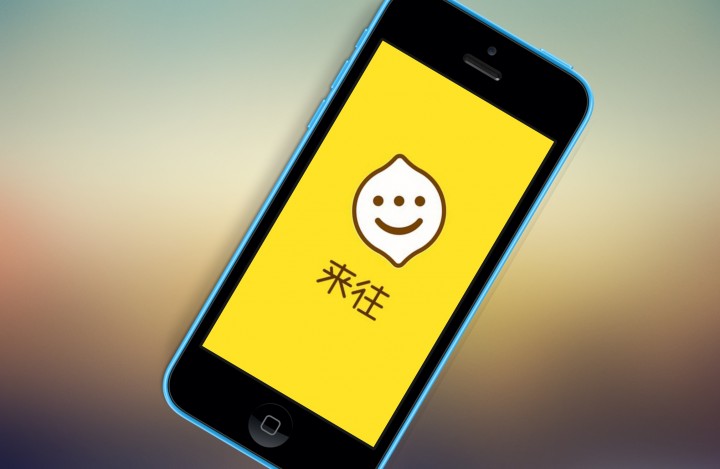 Last week, Chinese tech giant Alibaba released an updated version of Laiwang, the company's bid for a mobile messaging app in the vein of WhatsApp, Line, and WeChat.
Last autumn, Alibaba chairman Jack Ma led an headline-grabbing publicity blitz in an effort to lure in more users onto Laiwang. But many suspected that Laiwang was simply too late to the messaging game and would struggle to catch up to WeChat (or Weixin, as it's known in China), the popular messaging app made by Tencent. If this massive makeover of Laiwang is any indication, Alibaba is stepping out of the messaging space altogether and aiming for something completely different.
Making lemonade out of Laiwang
How is the new Laiwang different from the old app? For starters, let's take a look at the design. A screenshot of the original Laiwang ought to show up as a picture under the Chinese-English dictionary entry for the word "uninspired." Its app icon featured a speech bubble enclosed in a kelly green backdrop. Look familiar? Laiwang's user interface, meanwhile, closely mimicked that of the original WeChat interface, before Tencent placed public accounts on separate pages from ordinary contacts pages.
Now, the updated Laiwang is drenched in sour-candy yellow as it sports a new lemon theme. It even has a new mascot of sorts – anthropomorphic lemons.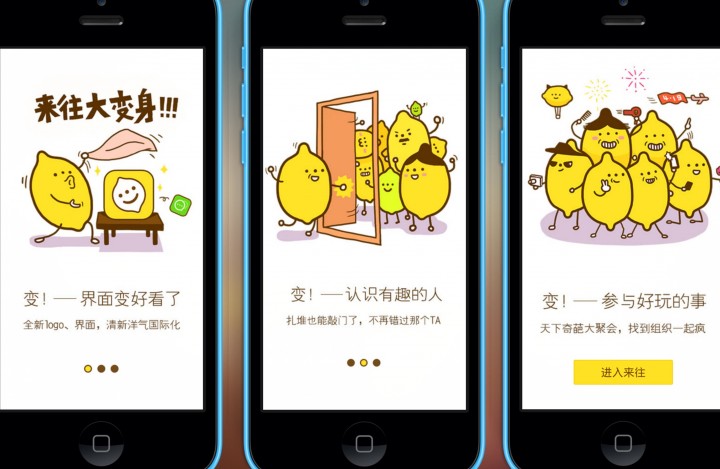 Don't underestimate the significance of this cosmetic change. Laiwang's original design was undisputably boring and poorly differentiated – that might fly in the US and Europe, but as Line and KakaoTalk rake in cash by turning up the kawaii, Alibaba had plenty of role models to follow if it ever hoped to add some pizzazz to its look and feel. Alibaba's graphic designers and product managers likely spent some valuable time studying Cony and Brown, the iconic characters that have done so well for Line.
A different kind of social
Moving beyond design, the new Laiwang emphasizes a type of communication that's slightly different from better-known messaging apps. WeChat and Line, despite boasting many cool features, remain centered around sending text or photo messages to people you know – your significant other, your mother, your classmates. You can do all that on the new Laiwang, but Alibaba would rather you join one of the app's many zhadui – a special type of themed group chat that's been placed front-and-center in the update.
These themed groups can be created by anyone – average Joes and celebrities are all free to create one. By joining one, users can freely post content, 'like' stuff, share content, and send out comments. They can also reach out and add group members to their own personal contact list. Laiwang even reveals each users' response rate for these sorts of uninitiated friend requests, so you'll know how likely that cute girl will be to reciprocate.
Alibaba is currently running a promotion in which it gives out various prizes (such as virtual currency for its Taobao marketplace) to users who share content from each group they join. While the company separates group chats into categories for ease of discovery, the app's internal structure can barely contain the chaos. Finding a group that suits your criteria will take a little time, especially since you have to actually join a group before you can scroll through all of its content.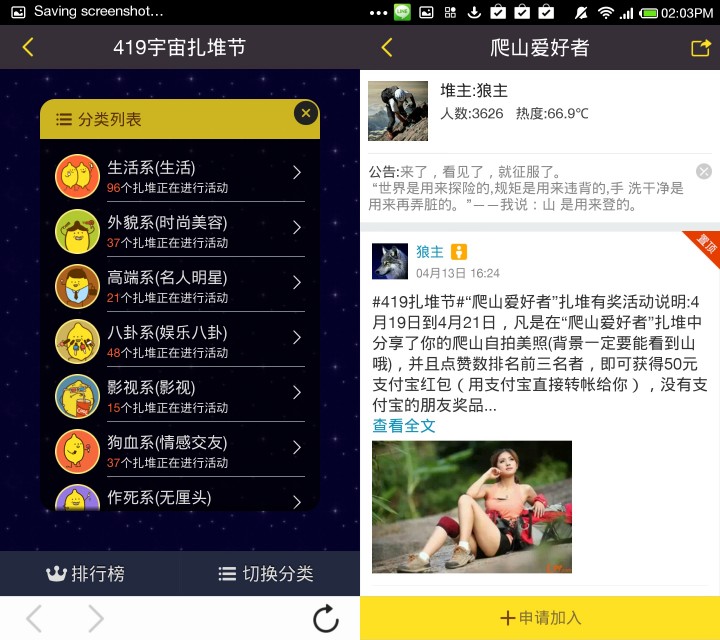 There's one other notable addition to the recent Laiwang update: the release of a social game called Fengkuang Laiwang (roughly "go crazy Laiwang"). What's it like? It's essentially Heads Up in Chinese.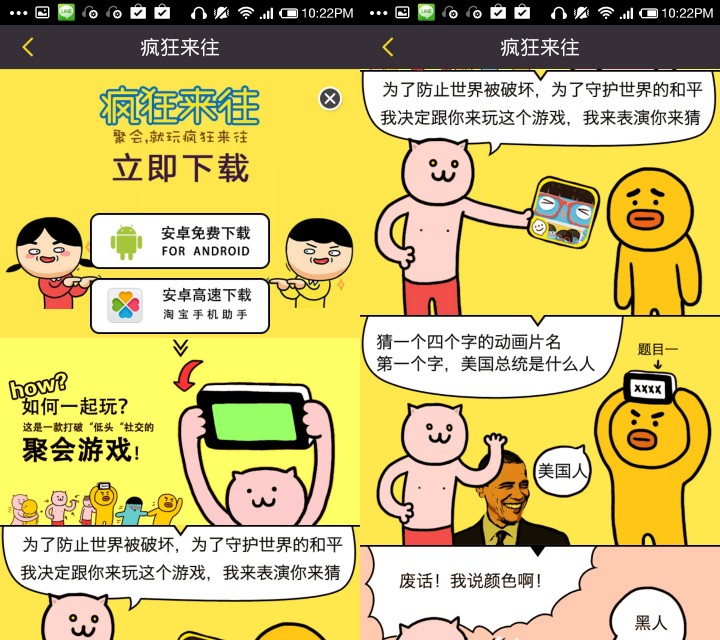 Call it a clone, or don't call it a clone – that's not important. If Alibaba can replicate the massive success of Heads Up in China, it might have engineered the perfect gateway drug to Laiwang addiction.
"Don't play what's there, play what's not there"
How serious is Alibaba about moving away from 'person-to-person' chat and towards a different type of social messaging. Quite serious, it seems. A company spokesperson provided the following statement to Tech In Asia regarding Laiwang's update:
IM is only one part of the entire [social networking] map. Laiwang has changed its main focus from being an instant messaging app to provide more focused social networking services and enable users not to only keep in touch with the friends that we already know, but also to find more people who share the same interests with us and to interact with them.
Indeed, the refreshed emphasis on zhadui steers Laiwang away from peer-to-peer messaging and towards something altogether different. Despite this pivot, however, Laiwang still faces competition from WeChat. One of WeChat's key talking points in China recently is its group chats, which many have praised for their relative orderliness. These WeChat groups are invitation only, and unofficial "best practices" have emerged to make sure conversations don't lose focus. WeChat groups have become so popular that Tencent has had to start policing them. Over the weekend, one Chinese activist reported having his WeChat account shut down due to a group he created to discuss human rights in China.
As a result, Alibaba likely hopes that the new and improved Laiwang will lure in users that crave a different type of social experience for mobile, perhaps one that's closer to that of Sina Weibo. Even if Laiwang never reaches the same traction that WeChat currently has, perhaps the new emphasis on group chat can help cultivate a group of niche fans.
Alibaba's mobile strong points for the moment remain in online with its mobile Taobao app and Alipay app, a mobile payments ewallet. While the company remains the undisputed king of Chinese ecommerce, Tencent looks set to chip at its dominance as it slowly but steadily adds shopping and payments to WeChat.
[Update: 14:45 PM April 22: We've revised the original title of this piece]