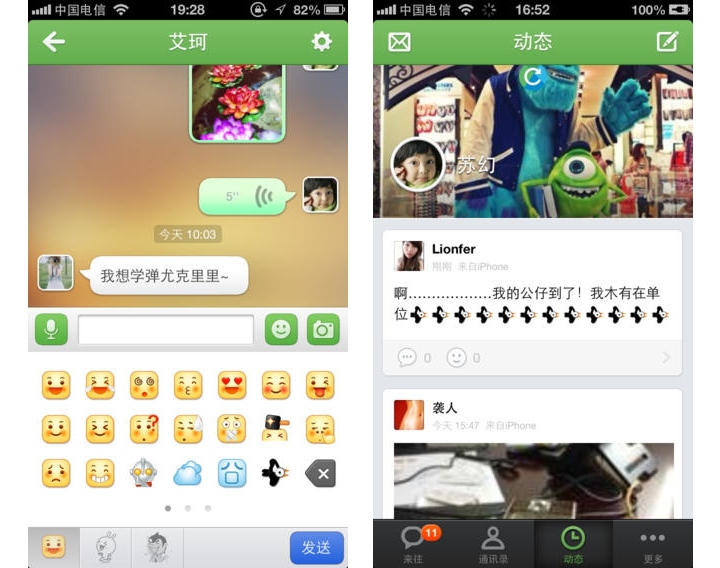 Jack Ma believes in his baby, Laiwang, and he wants you to as well.
Yesterday Alibaba chairman Jack Ma continued his public push for Laiwang, his company's latecomer messaging app, as he publicly invited various Chinese celebrities and Sina Weibo influencers to start accounts on it.
According to the Morning Post (via Techweb), the CEO has already managed to rope in over numerous celebrities with "Big V" certification on Sina Weibo (the equivalent to Twitter's "verified" certification), including Chen Kun, who appeared earlier in China's chat app wars with WeChat's first public account with a paid-membership tier.
The campaign to nab Big V celebrities hasn't sat well with some at the Sina team, which has its own competing chat app, WeMeet (though, of course, Alibaba is a major investor in Sina Weibo). In a status update on his personal Weibo page, Chen Tong, editor of Sina, posted the following message (translation ours, taken from the Morning Post's piece):
It's already been a few days, and still no one's convinced their friends to join Laiwang. It's really a messed-up failure [such that one would hesitate to] leave the house in fear of being seen.
Ma's public invitations is just one part of what is shaping to be a very public, personality-driven campaign for his company's messaging app. Earlier this week news of an Alibaba internal memo written by Ma leaked to the media, stating that if Alibaba employees didn't accumulate 100 non-Alibaba affiliated friends on Laiwang by November, they wouldn't receive red envelopes (a traditional Chinese form of a bonus).
Then, on Tuesday, Ma published a lengthy note on both WeChat and Laiwang announcing he would be ditching his account on the former in favor of his own app, and indirectly confirmed his red envelope policy. He writes (translation ours, taken from Huxiu):
In three days I'll be closing down [my WeChat] account. Thank you to all my friends on WeChat for giving me so much happiness and inspiration. But now I have no choice but to nurse my own child, Laiwang. I know many people might say this child has no special characteristics, or was born at the wrong time, won't grow up to be big, or even if he grows up to be big, he won't have the prospects of his older brother WeChat: (We know, we've heard it all. We don't expect this child to have the same future as WeChat, but we still expect this child to be even more ambitious, have character, and study hard. Today, there's a gap between him and his brother, but he doesn't want to surpass his brother, he just wants to realize his own future. We believe this world doesn't need to have just one child… as we all know, the one-child policy caused us great trouble).

Dear friends, I too work very heard for my red envelope. I also need the help of two hundred brothers and sisters, aunts and uncles. I used to think that having one child – WeChat – was enough. Now I've realized that having two children can also be beautiful. That's right, and our child likes to make friends, sometimes he can make groups of 500 friends at a time. He's kind of like his Daddy in that way, ha ha ha.

Brothers and sisters, in the next three days, come to Laiwang and find me. Come have a look at my baby. Your care will help him understand the significance of support, and will especially help him build the confidence to challenge his successful older brother… On Laiwang, add your phone number and then you can add me.
In other words: no, Ma's no dummy, and yes, he's still betting on Laiwang.
Humor aside, Ma's statement is significant in that he confirms that Alibaba won't give up on Laiwang. Whether or not chat apps can co-exist is still a question that has yet to be answered, both in China and abroad. Driving adoption might be a challenge, but Alibaba, like NHN, the Korean company behind messaging app Line, certainly has enough money to devote to an expansive marketing campaign. Though if recent events are any indication, Ma's emerging quirkiness might be just as effective and much cheaper.
(Editing by Steven Millward)