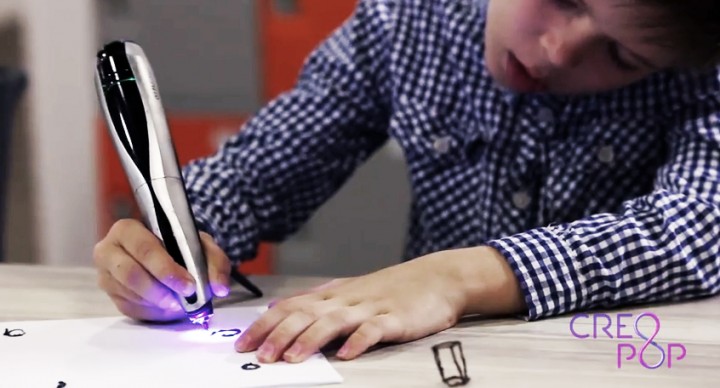 3Doodler, a seemingly magical pen that draws 3D shapes in the air using plastic ink, amazed the world with its simple idea. It raised US$2.3 million on Kickstarter, smashing its goal of US$30,000.
Just when you think upstaging 3Doodler is impossible, CreoPop, an upstart coming from Singapore, has a legitimate shot. The startup is fundraising on Indiegogo, and it's well on its way to meeting its goal many times over (update: the startup raised US$185,690).
Fantastic as 3Doodler sounds, it's unsafe for children. Melting plastic emits an unpleasant smell, and the pen's tip, which heats up to 270 degrees Celsius (over 500 degree Fahrenheit), could burn unsuspecting kids.
CreoPop works differently. Its ink, a light-sensitive resin, solidifies at room temperature upon contacting UV rays, which is why CreoPop calls it 'cool ink'.
CreoPop has also promised inks with unique properties. There's magnetic ink, ink that changes color based on temperature, aromatic ink, as well as ink that conducts electricity, stretches, or even glows in the dark.
And while 3Doodler connects to a power socket, CreoPop operates on a battery, making it ideal for appeasing bored kids on a long vacation trip. Parents would fork out US$89 for the pen and US$2 or US$3 for a cartridge, making it cheaper than the 3Doodler.
Exposure to UV rays harmful?
CreoPop's unique concept has attracted tons of media attention, and its touted child-friendliness didn't hurt. Yet people worry about the effects of long-term exposure to the pen's UV light.
Andreas Birnik, CreoPop's co-founder and marketing chief, says that the product "should be safe" for use. It's going through US certification and will change the product before shipping if the authorities identify problems.
"Our analysis and certification are not yet complete," says Birnik. "But we have found other devices using stronger diodes that have been certified."
These certification papers say that the devices are safe since the eyes normally blink as a reflex after looking straight into the light. Birnik isn't worried about long-term exposure either.
"UV light is in regular sunlight. In fact, if you leave our inks outside the capsules in daylight, they will solidify."
CreoPop is part of HaxAsia, a hardware startup accelerator run in Singapore, Silicon Valley, and China. Startups in that program which successfully meet their crowdfunding targets will join Foxconn's manufacturing lab where they will work with the manufacturing giant to refine the product and enter mass production.
The startup's research efforts are supported by the government's National Research Foundation under the iJAM funding program and administered by Media Development Authority of Singapore.