This month we received word from messaging apps KakaoTalk and Line that they have reached ever increasing user-base milestones. The messaging app battleground is definitely one to look out for as WhatsApp claims that it is now bigger than Twitter in terms of monthly active users.
Looking at the rapid growth of the popular chat apps, they all have the possibility of becoming bigger than Twitter 1 in the future. Let's take a look at how close the chat apps are to reaching the big numbers: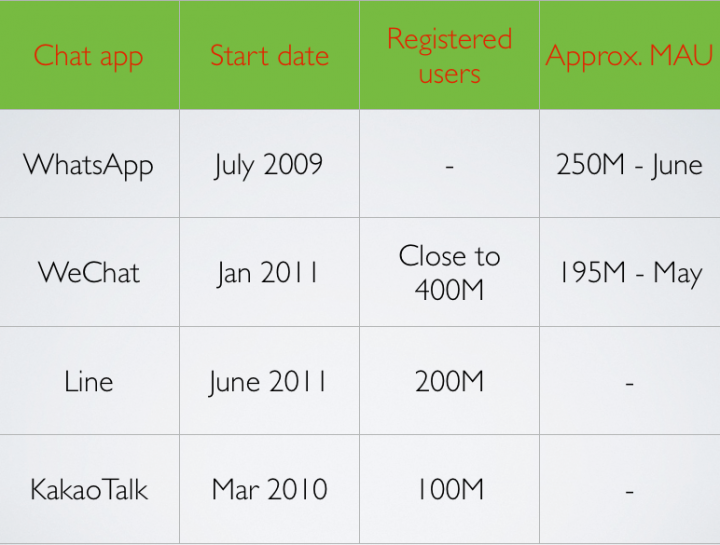 We're going to focus on WeChat, Line, and KakaoTalk since their roots are in Asia. Looking at the graph we compiled below, we can see that it took Line six months to reach its first 10 million users, while KakaoTalk needed twice that time to achieve the same number of users.
To get to the 50 million user mark, Line needed 13 months while KakaoTalk needed 27 months. How about WeChat? It took the China-made app less than a year to reach that particular milestone. While WeChat has the biggest registered base, only 70 million of those are outside China, so it's losing the global battle to Line in a pretty big way.
Leaving KakaoTalk behind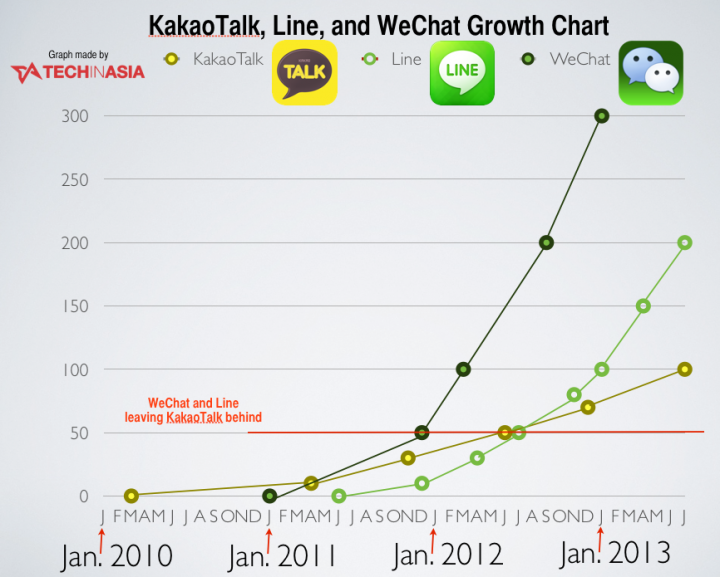 What's interesting is how Line and WeChat both left behind KakaoTalk in terms of user acquisition after the 50 million mark. Line needed about six months to double that tally, and another six months to double that number again to get to 200 million users, as we reported earlier this week.
WeChat impressively needed only three months to double that 50 million number up to 100 million. The app then went global as WeChat (known as 'Weixin' in China) and grabbed its 200 millionth user six months afterwards. It's almost been a year since that time and a lot of people speculate that the app is going to acquire its 400 millionth user very soon.
So since reaching the 50 million mark, it took Line 12 months to quadruple that number to 200 million. In 13 months, WeChat grew its user-base by 600 percent to 300 million. KakaoTalk needed a similar timeline to get to just its 100 millionth user.
Late start?
There are a few explanations as to why that happened. First is how Line and WeChat took the initiative to expand their apps before KakaoTalk did. WeChat went global in April 2012; Line saw 50 percent of its user-base was from outside Japan last October, but now that's up to 70 percent. KakaoTalk just started to be more aggressive in its expansion outside of its native Korea around November of last year.
Some other aspects probably come into play. Line launched its desktop version in March last year, which helped people to adopt the chatting app with computers (or to use it surreptitiously while at work!). Some started to use such social messaging apps as a replacement to the old Yahoo Messenger. KakaoTalk finally released its desktop app last month. WeChat has a browser-based web app for laptop and desktop PC users.
WeChat's source of its rapid growth looks to be a lot more obvious: the population of its home country. Japan's population is only 128 million; South Korea has 50 million people. Combine those two numbers and multiply that by a factor of six, and China's population would still be bigger than that number. And while Line and KakaoTalk are hiring Asian stars for their TV ads and marketing campaings, WeChat recently hired a mega celebrity in the form of the world's top footballer, Lionel Messi. That signals global ambitions.
Financial matters
Of course there's one more thing that matters most besides user acquisition, and that's revenue. KakaoTalk scored US$45 million in revenue last year, snapping a cool $7 million in profit. What about Line? The Japan-based app nailed $58 million in revenue in the last quarter of 2012.
That could well mean that Line is scoring more than four times the revenue of KakaoTalk. Of course it is unclear if Line is scoring bigger profits than KakaoTalk, or if it's making profits at all.
Tencent-made WeChat, on the other hand, hasn't monetized from its app yet. But it looks to start doing so soon with its new gaming platform which will launch in the next app update. It's going to be interesting to see if WeChat can catch up with its rivals in terms of revenue and profit in the near future.
Overpowering WhatsApp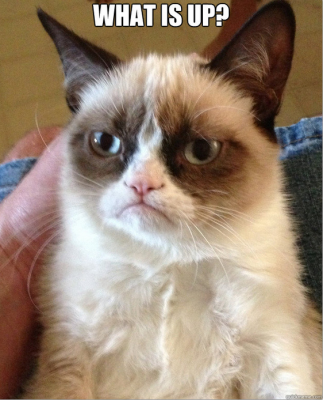 Now those three apps are constantly competing with each other in many countries like Indonesia, Thailand, and Vietnam, and WeChat looks on course to beat WhatsApp in the long run – if only in terms of active users, but not global reach. Would the other two apps be able to follow suit too?
When you take a look at the business model, all three Asian apps do not charge a dime from their users. And in response to the growing chat app competition, WhatsApp recently made its iOS version free for the first year of use, so users still need to pay eventually. I would still say that zero cost always sounds more appealing than "free for first year only." So Whatsapp's first mover advantage may get whittled away by the Asian chat apps' more comprehensive offerings.
That, along with features like huge animated stickers, games, and free calls should help encourage quite a few WhatsApp users to move to another platform. That is, unless WhatsApp's new features have a say about that.
Do you think WhatsApp should be worried here?
---
Do note that Twitter isn't competing in this space, and that they all look small compared to Facebook's 1.1 billion monthly active userbase. Facebook is arguably in the hunt with Facebook Messenger.

Facebook Conversation
comments