Over 70 million users since it first launched in June of 2011. That's a pretty impressive milestone for Japan's chat/voice application Line after such a short time. What's even more impressive is that its initial success at home has been successfully translated to markets abroad, with more than half of its users (about 37.4 million) coming from overseas as you can see in the chart below.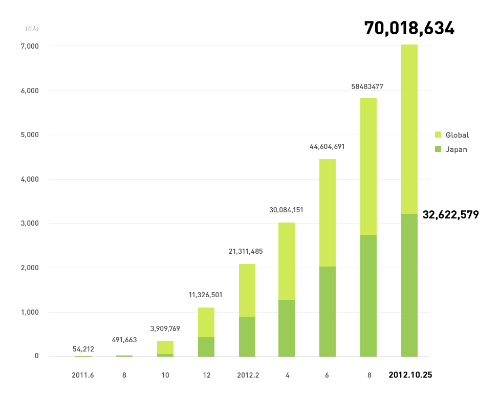 What was initially a domestic hit has been pushed aggressively abroad, particularly around Asia. NHN Japan has worked with Thai food manufacturer CPF, Thai airways, and a partnership with carrier AIS [1]. The company also has a tie-in for the Samsung Galaxy Pocket handset that pre-loads their app. Check out the commercial for that below:
Meanwhile in Taiwan the company has a partnership with convenience store chain Family Mart as well as a partnership with VIBO Telecom, with whom it has a television commercial with its cute stickers front and center:
In Indonesia, Line has been working with carrier Telkomsel pushing its customized Telkomsel sticker pack in the country. And, as you might expect, there's a Telkomsel commercial featuring Line as well.
Meanwhile, back in its home market of Japan the service has about 32.6 million users. As we noted earlier this month, it can now count the Japanese Prime Minister's Office as one of its newest, as the PMO recently announced that it would use Line to communicate important messages to the public.
With more and more companies getting into chat applications (DeNA just launched its own chat application, Comm, two days ago), Line's aggressive pursuit of users in markets around Asia will no doubt give it an edge.
China's Tencent is pushing hard as well, with strong efforts in Indonesia in particular. But Line has expressed interest in expanding to China as well, which should make for a very interesting showdown indeed.