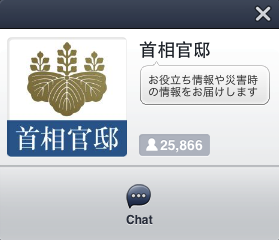 We have previously written about Japan's Prime Minister's Office and how it has been reaching out to the public via social media. First it started out on Twitter and Facebook in the wake of last year's earthquake. And now today the office has announced yet another communication platform added to its growing social media repertoire, with a new account opened up on popular chat platform Line. You can find the PMO's office under the Line ID #kankei.
One of the main purposes of this account will be to help send out essential information in the event of an emergency or a disaster. And in this respect, I'm glad to see the PMO making an effort to get on as many platforms as possible. And given that Line has over 30 million users in Japan, that's certainly an important channel on which to build a presence.
Regrettably (and unsurprisingly) the conversation is just one-way, as sending a chat message to the Prime Minister's Office Line account will only yield and automated reply directing you to its website.
How's that Weibo account doing?
Readers may recall that recently the PMO also opened up an account on Sina Weibo in order to get its message out to Chinese language speakers. That account was, to the best of my knowledge, sort of soft launched without much fanfare, but appears to have been closed down sometime last month, most likely amid all the craziness of the Senkaku islands dispute and (often violent) protesting in China.
I'm not certain when the account closed, but it looks to have been in mid-September. I'm not sure if this was due to unexpected abuse, but I would guess that it received a healthy portion of Chinese fenqing crazy at that time.