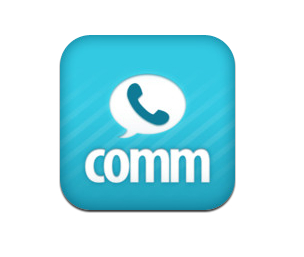 Japanese social gaming giant DeNA (TYO:2432) has just launched its very own voice/chat application called 'comm' (at co-mm.com) The free application is available for both iOS and Android and is available in 204 countries/regions. It allows users to make free voice calls, and also includes chat features and photo sharing.
We've written much about the recent rise of mobile chat applications in Japan and around Asia, most specifically NHN Japan's Line and KakaoTalk out of Korea. Both those companies have expanded their services to include game platforms, and given their rapid user acquisition they may pose a threat to the current mobile gaming incumbents, GREE and DeNA. So it's really interesting to see DeNA join the chat app party at this point in the game.
Of course, DeNA is not only a social games company (it does e-commerce as well, for example, and describes itself as a "global internet company), and I'm told that Comm is "not a reactive measure" but rather a way to reach out to new users that it might not reach with Mobage. Nonetheless, it's fascinating to see such overlapping competition in the mobile space these days.
Upon sign-up, Comm asks for your real name and phone number, sending you an activation code via text message. Users can also sign up with their Facebook accounts, if they choose. From there, you add or search for friends and see who else is using Comm.
I initially thought that this would be a service that DeNA might tie up with its Mobage gaming platform. But the company notes that this is a stand-alone service that will not connect with Mobage or its other services.
We also understand that there is no immediate plan for monetization or advertising, but that DeNA will look into that later on.