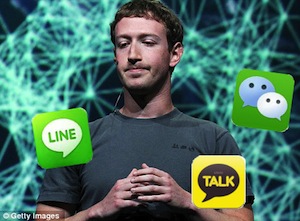 A new report from the folks over at Distimo looks at which mobile social networks are doing well around the world, and specifically which networks are winning out in Apple's App Store for the biggest global markets.
While Facebook (NASDAQ:FB) is still the world's dominant social network app on mobile, some changes over the past year in Asia now mean that it "its dominance is not as apparent" as the year before, says Distimo.
We have watched the rise of Line, NHN Japan's popular chat application, and Distimo says that it was the most popular mobile social network app for iOS in Japan, Taiwan and Singapore. NHN Japan now claims about 55 million users in total (across multiple platforms) and has its eyes on China, although that market is sure to prove difficult.
Speaking of the Middle Kingdom, in China the top social app was WeChat, which is also coming on very strong (it was tops in Hong Kong too). Korea also has a strong mobile social challenger in KakaoTalk, which was the most popular in Korea.
Distimo also looked at which countries has the biggest appetites for social applications. Surprisingly the Asian nations were less social than the average. In the United States, the download volume for the social category in the App Store accounts for 20 percent of the 'Top Overall' download volume (see chart below). In contrast, Asian countries affinity for the social apps category is far less. In Singapore the figure was 14 percent, and it was far less in Japan and Korea (10 percent each), and lesser still in China, Taiwan, and Hong Kong (nine, eight, and seven percent respectively).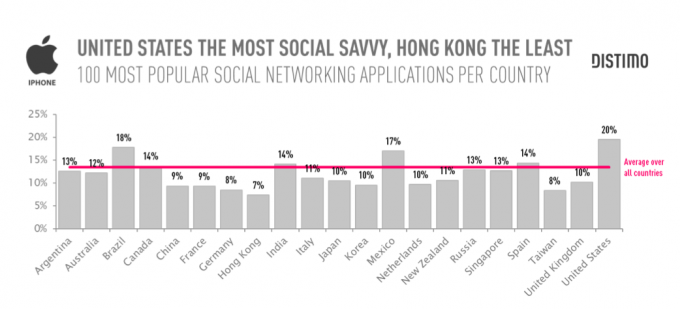 [Lead image: Daily Mail (modified)]