Every day, more and more people in India gain access to broadband internet via either mobile or desktop. Because of its massive population, India is set to be the next big market for multinational companies to dig their claws into. And unlike China, which holds protectionist policies against foreign tech firms, India has remained relatively open.
But as global giants come pouring in to gain a foothold, India's local startups are putting up a fight for the country's fresh-faced internet users. What they lack in capital they make up for in local expertise and agility. Many of them are simply localized clones of their foreign counterparts. Call them copycats if you want, but India's prudent entrepreneurs are filling emerging market gaps with tried-and-tested business models. As we've said before, it's the execution – not the idea — that matters.
Underdogs or copycats?
The most obvious recent example of this is e-commerce site Flipkart. Its recent $360 million funding round will be used to cross swords with Amazon, which for now is just a fledgeling marketplace for 3rd-party vendors. Flipkart remains the country's e-commerce leader so far. However, some analysts predict that if Amazon can't beat Flipkart, it might just try to acquire it. Started by ex-Amazon employees, Flipkart is run similarly in terms of business model, management style, and philosophy. Like Amazon, Flipkart is burning through frequent funding rounds early, and profitability isn't a huge concern yet. Gaining traction is the first priority, and the founders have been criticized for micromanaging Flipkart much in the same way that Amazon CEO Jeff Bezos did.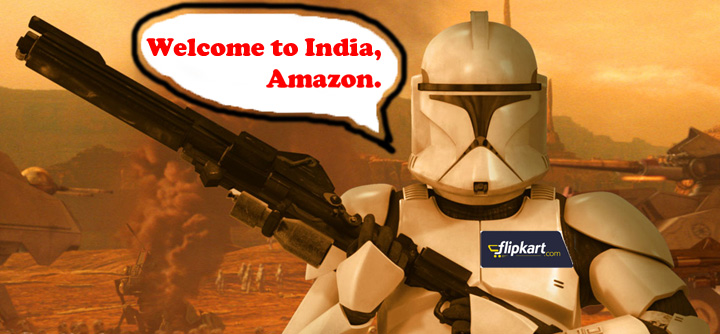 In the messaging app space, Hike and Nimbuzz combat their international competitors Line, WeChat, and WhatsApp. Both have all the standard chat app features, and given the numerous chat apps competing around the world, it's futile to argue who copied who. Gaining an early foothold in the social app space is vital because new users are likely drawn to platforms because their friends are on them, rather than flashy new features that the new kid on the block boasts.
Planning a trip?
Travel and tourism is an especially huge consumer vertical in India. Budding startups are waging full-on war both amongst each other and the international players that provided the blueprints:
Even the little guys have to fight for the scraps
It's not just businesses with high profit margins and mass audiences battling against foreign dominance. We're also seeing rather niche startups duplicate the success of less prominent businesses in other countries. Here's a few examples:
Lockscreen advertising app Paisa Swipe is a clone of South Korea's Cashslide and the US's Locket. Every time you turn on your phone, an advertisement appears on your lockscreen. Each time you swipe it away, you earn a penny or two in cash.
Sinapore-based Spuul is a localized Bollywood version of Hulu targeting Indian users. With both free and premium content on offer, this more targeted niche might get fewer viewers, but a more loyal following.
Shradhanjali, a website where users can create memorials to their deceased loved ones, essentially copies Legacy.com from the US.
Internshala is an internship listing and application portal akin to dozens of similar sites overseas.
Price comparison engine BuyingIQ uses the same formula and similar interface as Google Shopping and many other such sites. This one focuses on consumer electronics.
Let's not forget about hardware. Local handset makers like Micromax have made significant gains on both Apple and Samsung in the highly price-sensitive Indian smartphone market.
Too little, too late in some verticals
These are just a few of many, many examples of Indian clones competing with their international inspirations on home court. While some can and likely will be successful, some verticals might have already shut out any chance for local contenders.
The social networking sphere, for instance, pretty much belongs entirely to Facebook, followed by Google+ and LinkedIn with the native Ibibo coming in fourth in terms of popularity.
Search might also have gone past the point of no return. Google takes 70 percent of India's search market tailed by Bing and Yahoo.
As long as foreign web browsers come preinstalled on PCs and smartphones sold in India, locally-made variants are unlikely to catch on. Firefox, Chrome, and Internet Explorer lead the way on desktop, while China's UCWeb and Opera take home the win on mobile.
For the most part, Indian startups are putting up a hell of a fight against their multinational opponents. Whether you prefer the homegrown copies or the big-name originals, the competition should amount to better products and services at lower costs for Indian consumers. Where there is no clear winner, it's likely the big boys will acquire the small fries.
(Editing by Josh Horwitz)

Facebook Conversation
comments