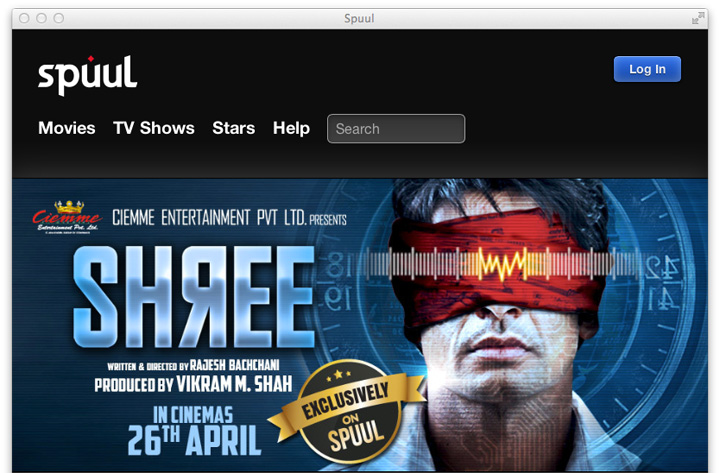 Founded by S Mohan and Sudesh Iyer in 2010 and launched publicly in April 2012, Spuul is a startup that legally provides users with the latest Bollywood movies and Indian TV content on the web, Facebook, and mobile. It currently has about 900 movies and 300 TV episodes available and is adding new content at least on a weekly basis.
The founders are from interesting backgrounds. Prior to Spuul, Mohan founded Accellion, Renaissance Solutions, e.Com, and buUuk. Sudesh co-founded Sony Entertainment Television which is watched by over 120 countries worldwide. He also owns a TV production company listed on the Bombay Stock Exchange which produces over 2,000 hours of content, including Bollywood movies. Sudesh's connections in the broadcasting space in India gave Spuul a huge advantage.
Spuul is free to use but it also provides the option for users to pay $4.99 per month for premium movies or $0.99 for every special movie streamed. In addition, Spuul also monetizes through ads shown on each bit of content. Michael Smith, chief product officer at Spuul, believes that Indian content is currently under-served on the web and tells me that Bollywood movies aren't just well-loved in India but also in places like Southeast Asia, the Middle East, and across Africa.
Spuul is unique in that we are solely focused on premium Indian video. We have relationships with all major content producers in India and we are the only product focusing on bringing this content to the globe.
Michael declined to provide user numbers but did say that its "customer base is already very global." Spuul seems popular judging by user feedback and ratings found on iTunes and Google Play. If you're into Bollywood movies, you should give Spuul a try.
Spuul has about 15 people spread between India and Singapore. The startup is currently privately funded by its founders but will not rule out external investment if more financial power is needed to bring Spuul to the next level.
Check out the Spuul apps for iOS and Android.
(Edited by Steven Millward)