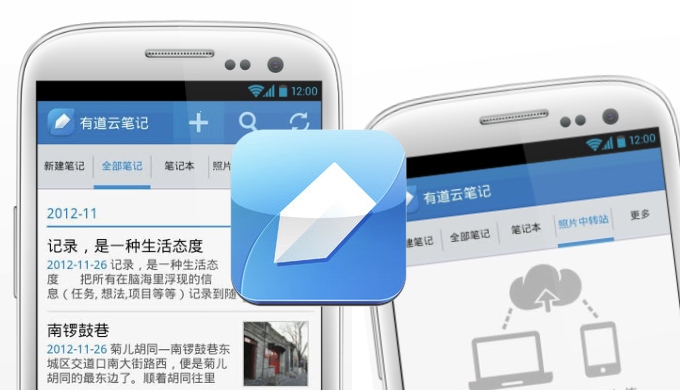 Chinese web portal Netease (NASDAQ:NTES) is making good progress with its Evernote-like cloud notes service, Youdao YunBiJi, which has just surpassed eight million users. According to the Youdao staffer in charge of this product, it has 450,000 active daily users.
Back in February of this year it was at two million registered users, then by July it was up at three million – but Youdao YunBiJi has made a big leap up since the summer. It has apps for Windows PC, iPhone, iPad, and Android, and can be found at note.youdao.com.
The Youdao YunBiJi mobile apps recently got bumped up to v3.0, bringing a UI refresh and some new features like to-do lists. But its UI is still staid and unimaginative (pictured above), lacking the visual flair of Evernote.
But it's thought that local web rival Shanda (NASDAQ:SNDA) has the largest cloud notes service in the country, with its early-starter Mknote which has been running for two years already. Silicon Valley's Evernote launched a localized version for China in May of this year, and quickly rocketed to 1.1 million users in the space of just two months.
Netease is best known for its social gaming and email services, and also has a search engine (China's seventh-largest) under the same Youdao brand.
[Source: Marbridge Daily]