New user number stats for the main cloud notes services in China reveal that Evernote has made a great impact in the mere two months since it launched a separate version for the country. With a reported 1.1 million users, Evernote's Chinese cousin – called Yinxiang Biji – has shot into third place among four main contenders.
But that still leaves Evernote trailing behind two major Chinese web companies and their more established notes syncing offerings. The oldest of the bunch has the greater number of users: that's Shanda's (NASDAQ:SNDA; FRA:RZP) Mknote with five million users (see the table below).
In second place is Netease's (NASDAQ:NTES) Youdao YunBiji, which has grown to three million keen note-takers from the two million figure we reported back in February [1]. That leaves one startup, FIT, trailing in fourth place with its stylish YunBiji (yes, it has the same quite generic name as the Netease product, meaning "cloud notebook") picking up 400,000 users so far. The stats were compiled by Techweb.com.cn, and come from self-reported figures: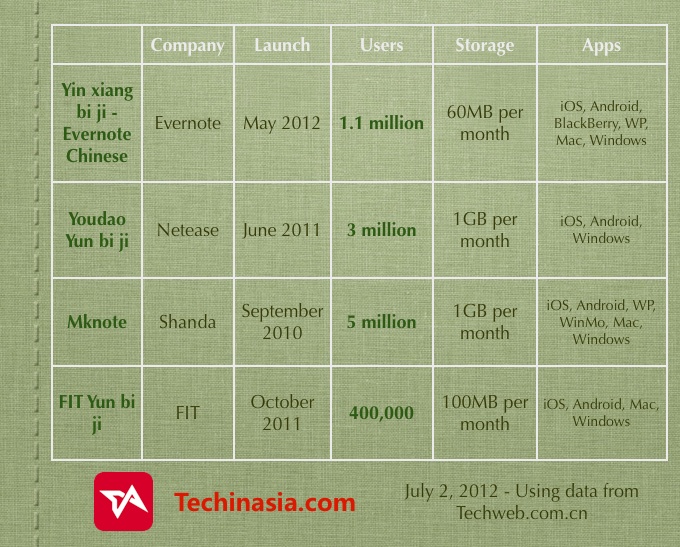 Evernote's main battle is clearly against Netease and Shanda. For free users, Evernote's meagre 60MB of storage allowance per month seems to be sufficient and is not hampering the early traction of its Yinxiang Biji in the country. Since these services are mainly about taking notes, not storing files, the generous 1GB storage of the major web companies might not be a factor. I'd hazard a guess and say that the slickness of the Windows app – and then the accompanying mobile apps – will prove to be the winning factor.
Check out all four competitors on their homepages: Evernote's Yinxiang Biji, Netease's Youdao Yunbiji, Shanda's Mknote, and FIT's Yunbiji.
[Stats from: Techweb – article in Chinese]