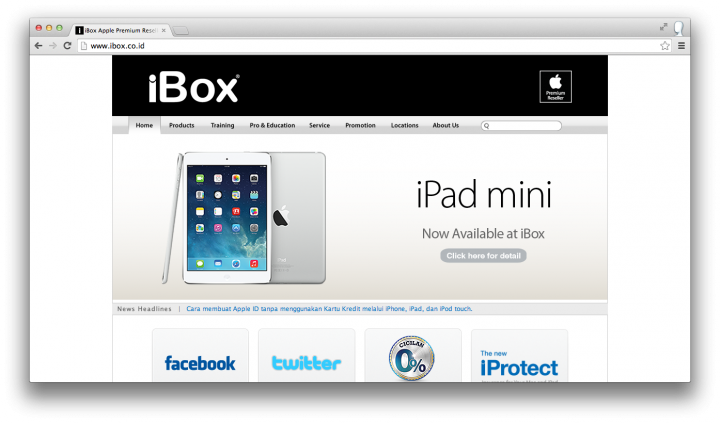 Not a lot of people in Indonesia were expecting this today. Local media didn't hype it up prior to launch, but Apple's iPad Mini officially hits the country today through premium reseller iBox Indonesia. No, this is not the brand new iPad Mini with retina display. The one being launched in Indonesia is the first generation iPad Mini that was rolled out to most countries last year.
Two 16GB iPad Mini versions are on sale, the wi-fi only and wi-fi with cellular. The former costs IDR 4.3 million ($362) while the latter is sold at IDR 6.2 million ($522).
I'm not sure how eager Indonesians are to buy the iPad Mini, considering it's not the latest version. Moreover, the iPad Mini with retina display has already been available in neighboring Singapore since November. Customers can get the latest version there for $70 more. Richer folks can just buy the latest versions of the iPad Mini (and even iPad Air) at local grey-market shops.
At the moment, the latest iPad version available in Indonesia is the iPad 2. For iPhone, it's the iPhone 5. Indonesians are eagerly anticipating the time when they can get their hands on the latest Apple gadgets (officially) inside the country.
(Source: Kompas (in Indonesian))
(Editing by Paul Bischoff)