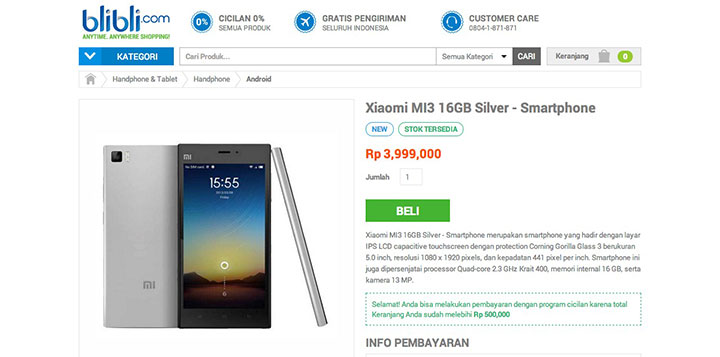 (Update on August 12th: A Xiaomi representative tells Tech in Asia that the listing indeed does not mark an official Xiaomi sale. The representative adds that when Xiaomi does enter a country, the team will try to peg the price as close as possible to the domestic Chinese price.)
Indonesians can now purchase the Xiaomi Mi 3 via online shopping mall Blibli. It's not Xiaomi's official launch in the country, but many gadget fans will appreciate a reliable source of the much sought-after smartphone.
The Mi 3 is a bit pricey compared to the price in neighboring countries that have official sales, such as Singapore and India. Blibli tells us they're selling it with a one year distributor warranty, which makes it a safer bet than 'grey market' importers. The Chinese phone-maker is expected to launch official online sales in Indonesia sometime this year.
Blibli is selling the outgoing flagship phone (see here) for IDR 4 million (US$ 342) for the 16GB Mi 3 model. In China and other markets where Xiaomi has launched, it's pegged at just US$240 for the 16GB version.
See: Hands-on with the new Xiaomi Mi 4 (VIDEO)
Backed by conglomerate Djarum Group, Blibli is one of the top online stores in Indonesia. A customer representative says that they've been selling their own stock of Mi 3 phones since last week. Blibli also sells other Xiaomi-made products like cases and screen guards.
Xiaomi VP Hugo Barra was in Jakarta in June where he revealed that unspecified Xiaomi devices are undergoing certification to be sold in the country. There's no launch date yet. The company will work with multiple gadget vendors in the country and plans to have 15 to 16 service centers there.
Xiaomi has leapfrogged Samsung as China's biggest smartphone brand in terms of shipments in Q2 – and many are awaiting its next country launch.