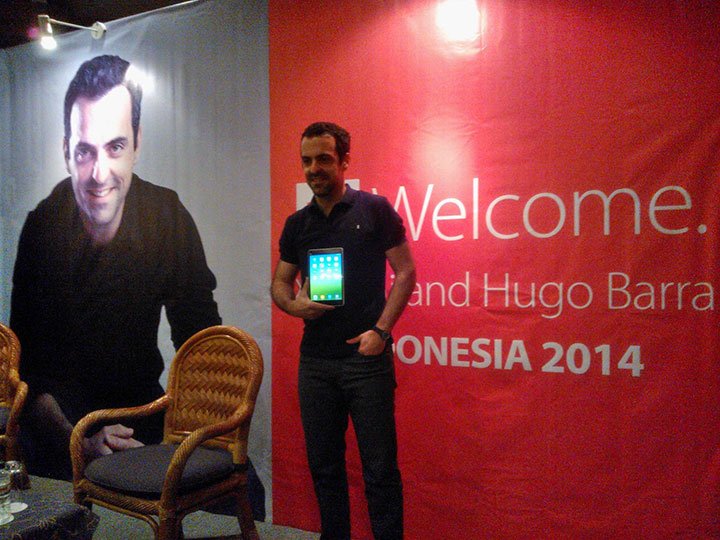 (Update: We previously mentioned some Xiaomi product models that they plan to sell in Indonesia. The Xiaomi team clarified that they haven't decided what models to sell in Indonesia yet.)
A lot of people in Southeast Asia have been hotly anticipating the arrival of Android smartphone brand Xiaomi in their country. The Chinese gadget-maker has made its way to Singapore and Malaysia in the past few months, and it has a few other countries on its roadmap. Xiaomi's Hugo Barra (pictured above) is in Jakarta right now, and earlier today he gave a clear indication that Xiaomi's Indonesia launch in imminent.
At the International Cellular Show (ICS) event in Jakarta today, Barra told news media that Xiaomi is undergoing the certification process for its gadgets in Indonesia. "It'll probably be finished in a couple of months," says Barra. Indonesian handphone distributor Erajaya (Indonesia:ERAA) also says it expects to start selling Xiaomi handsets in August. Erajaya's handset store Erafone set up a Xiaomi display at ICS to show off Xiaomi's products to attendees. Barra says that they have not yet decided which smartphone and accessory models they will sell in Indonesia.
See: Xiaomi breaks into global top 10 for smartphone shipments, kicks out HTC
Gadgets sold in Indonesia are usually more expensive compared to the ones sold in neighboring Malaysia and Singapore. While Barra hopes the price difference won't be much, Erajaya director Jeremy Sim says that the gadgets could be 10 percent more expensive than those countries. This is due to government regulations like VAT and prepaid income tax.
Barra explains that Xiaomi phones will come with Indonesian language localization when they are launched. While the only local partner disclosed during the event was Erajaya, Barra promises that Xiaomi will hold no exclusive partnerships with any vendor and will work with multiple partners in Indonesia, just as they have done in other countries.
The team will exclusively sell Xiaomi online in the beginning, most likely through the company's famous flash sale events, and will maintain its focus on ecommerce sales in the long run. Barra says Xiaomi will not use its own website for online sales due to the hefty legal procedures they need to fulfill in Indonesia, and will instead rely on ecommerce partners.
He adds Xiaomi will have 15 to 16 service centers in Indonesia. Those service centers will be run by Xiaomi's partners here, but Indonesians can still directly contact Xiaomi's customer service team in Indonesia.
During the event today, Barra also mentioned there's the possibility that Xiaomi will enter North America next year (he's mentioned Mexico in the past). Besides Indonesia, the other Asian countries on Xiaomi's radar this year are Thailand, the Philippines, Vietnam, and India.