One of the sure things in Indonesia's internet industry is the ample amount of ecommerce startups hanging around the corner. For 2014, we've updated our list of popular ecommerce sites in Indonesia. This time we're going to categorize the following ecommerce sites according to their business models: online forums and classifieds, business to consumers (B2C) sites, consumer to consumer (C2C) marketplaces, and others.
Online forums and classifieds
---
---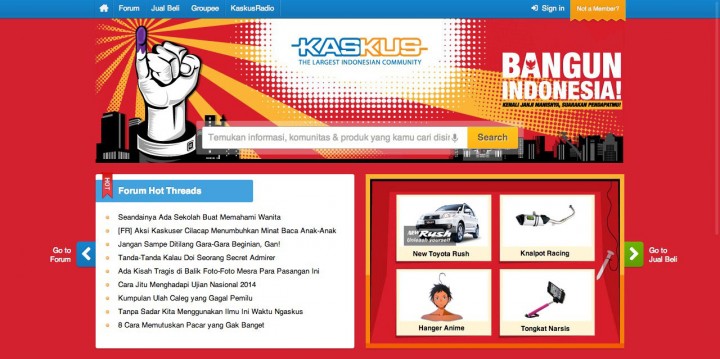 Kaskus was built mainly as an online forum, but it grew to become one of Indonesia's hottest ecommerce platforms. Users can post articles inside the platform as well as buy and sell items there.
In December, Kaskus had a change of leadership with new CEO Sukan Makmuri – who once held the position of VP for the internet banking technology division at Bank of America – overtaking the reigns from co-founders Ken Dean Lawadinata and Andrew Darwis. Then, the team reported that they recorded 40 million users and 600 million pageviews every month.
Alexa rank: 7th in Indonesia.
(See: Why now is an exciting time for Kaskus – and everyone)
---
---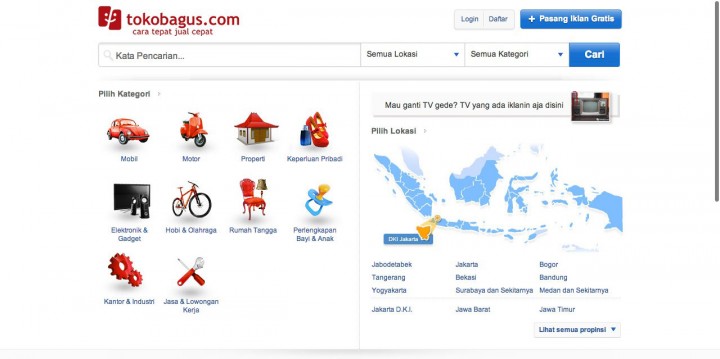 When it comes to websites that focus solely on classifieds, then TokoBagus would probably be the first in the minds of many Indonesians. Remco Lupker and Sebastian Arnold Egg co-founded the site back in 2003, in between they received hefty investment from MIH and went gung ho in advertising TokoBagus in many media outlets in Indonesia.
(See: Tokobagus Co-founder Remco Lupker Show Offs His New Venture, Ambient Indonesia)
Last April, MIH disbanded one of its ecommerce portfolios – Multiply – to focus its funds on other more promising portfolios – including TokoBagus. In December, the team finally revealed its data for the first time and it was crazily huge: they passed one billion monthly pageviews in July 2013.
Alexa rank: 13th in Indonesia.
---
---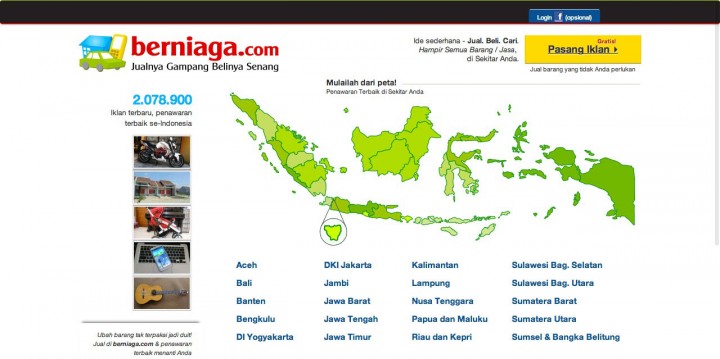 Looking to challenge TokoBagus' dominance as classifieds leader in Indonesia is Berniaga. It is also very aggressive in marketing its site in the country thanks to the backing of its parent company 701Search.
Alexa rank: 24th in Indonesia.
B2C sites
---
---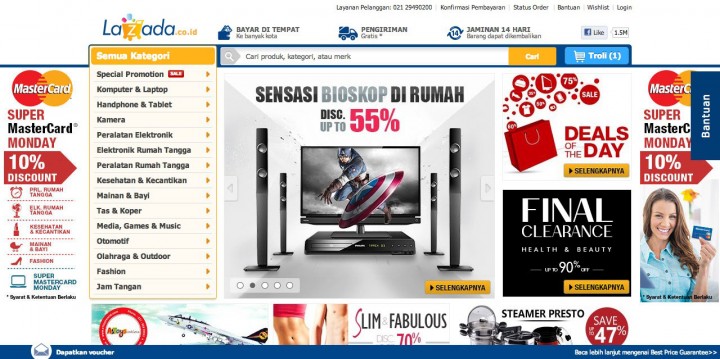 Rocket Internet's Lazada recently celebrated its second anniversary in Indonesia, and during its short two years, it has risen to be one of the biggest B2C ecommerce players in the country. Its endless pool of money helps of course.
During the country's national online shopping day in December, Lazada Indonesia reported that they recorded thousands of orders per hour. It is now operating with 300 employees in Indonesia and is looking to dominate the next big trends: mobile commerce and third-party merchants.
Alexa rank: 31st in Indonesia.
---
---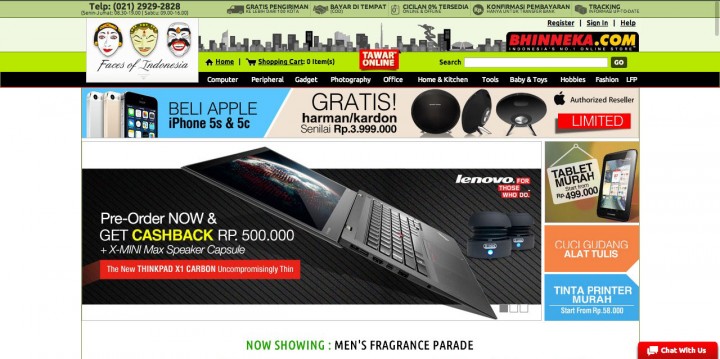 Bhinneka is one of the first players to emerge in Indonesia's ecommerce scene with gadgets as its main products. Its has been maintaining an online presence for over 14 years and is now expanding its product categories into other fields like musical instruments and toys.
(See: Battling Against Rocket Internet's Lazada, Bhinneka Wants to be Indonesia's Amazon)
In February it revealed that it reached an average of 21 million monthly pageviews in 2013 and earned IDR 600 billion ($52 million) that year. 70 percent of it, the company claims, came from its online store. Bhinneka now has over 500 employees with six physical stores in Jakarta.
Alexa rank: 65th in Indonesia.
---
---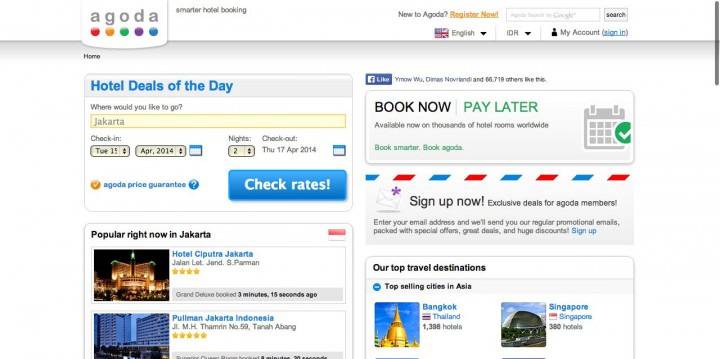 Singapore-based Agoda is still the number one hotel booking site in Indonesia. In total it has over 390,000 hotels to book from, as well as over seven million customers.
Alexa rank: 110th in Indonesia.
(See: 9 Top Web and Mobile Travel Startups in Indonesia)
---
---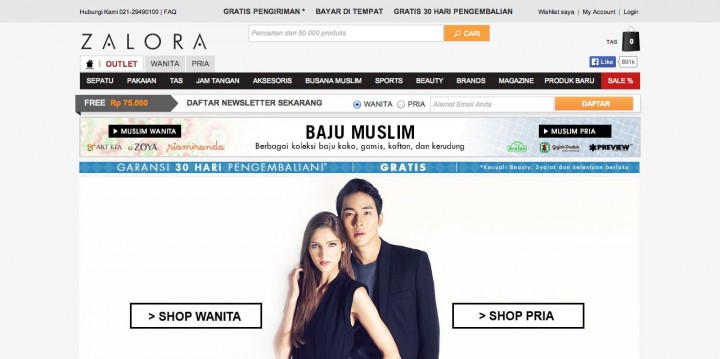 The two-year-old fashion ecommerce site Zalora Indonesia is similar to Lazada Indonesia: it is backed by Rocket Internet and has an ample amount of money. And just like its sister company, Zalora is quite tight-lipped regarding its data.
Last September, DailySocial cited Hadi Wenas, then managing director of Zalora Indonesia, as saying that the Indonesian branch has become the biggest group out of Zalora's ten branches in Asia in terms of revenue.
Alexa rank: 126th in Indonesia.
---
---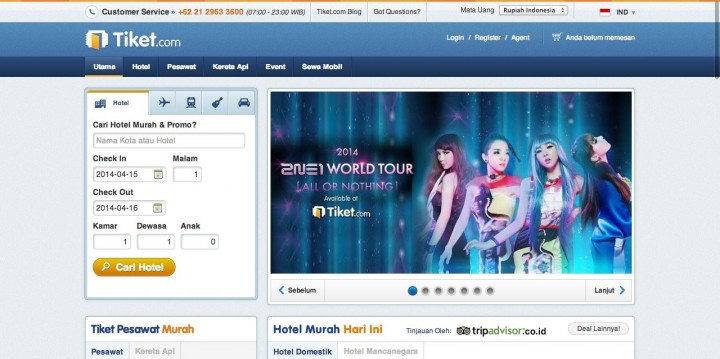 Tiket is one of the biggest travel ecommerce startups in Indonesia. It lets people buy various travel products like flights, hotels, train tickets, concert tickets, and even rent cars. According to the Jakarta Globe, Tiket now facilitates about 3,000 transactions every day with a total daily revenue of IDR 2 billion ($175,000).
Alexa rank: 175th in Indonesia.
---
---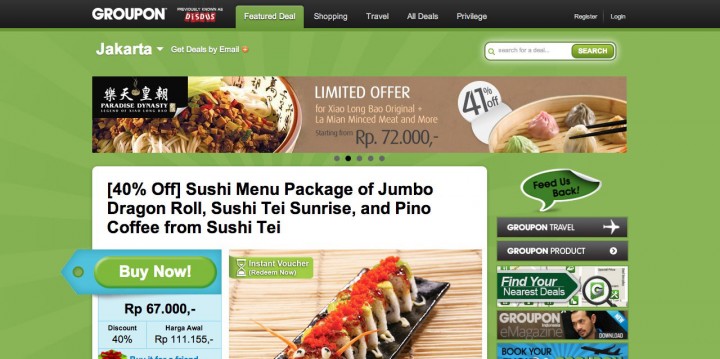 Groupon entered Indonesia with the acquisition of daily deals site Disdus in 2011, and they are still the leader in Indonesia's group buying business. In its third anniversary last September, Groupon Indonesia revealed that it had 500,000 daily visits with an average transaction per day of IDR 300 million.
Alexa rank: 181st in Indonesia.
(See: Disdus co-founder: Whatever industry you're in, you can be successful)
Marketplace
---
---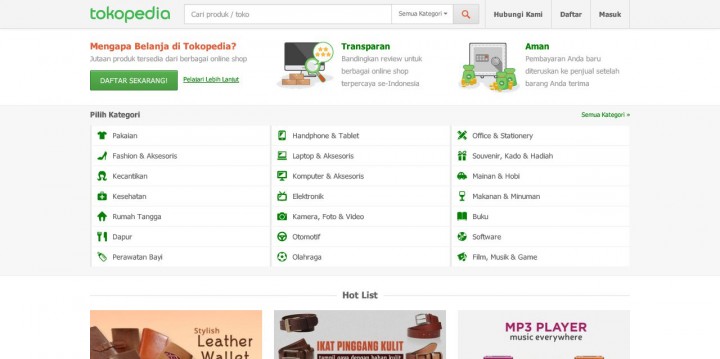 Tokopedia and Bukalapak are local marketplace players who have been underdogs in their battle against giants like Telkom-eBay's Plasa.com and MIH's Multiply. But the two sites managed to come out on top and are now leading the local market. Headed by William Tanuwijaya and Leontinus Alpha Edison, the four-year-old Tokopedia now has over 770,000 active listings and sold 13.4 million items in the past year using its escrow service.
Alexa rank: 32nd in Indonesia.
(See: How Tokopedia is Building Indonesia's Taobao)
---
---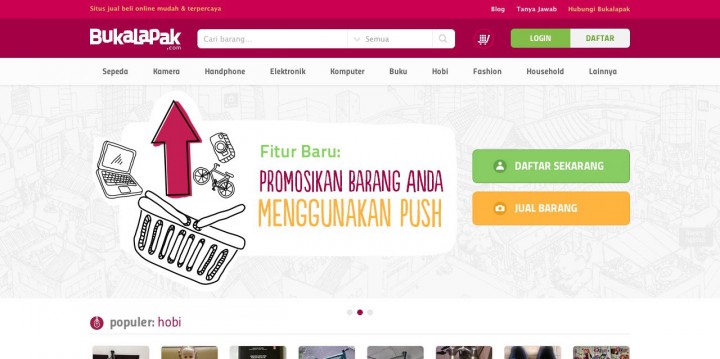 Bukalapak is a fierce rival of Tokopedia. It has also managed to overcome tough competition during its early years. Headed by Achmad Zaky, the site now facilitates transactions valued at about IDR 500 million every day. It now has about 400,000 live item listings and is looking to embrace the mobile industry with the launch of its Android app last month.
Alexa rank: 43rd in Indonesia.
---
---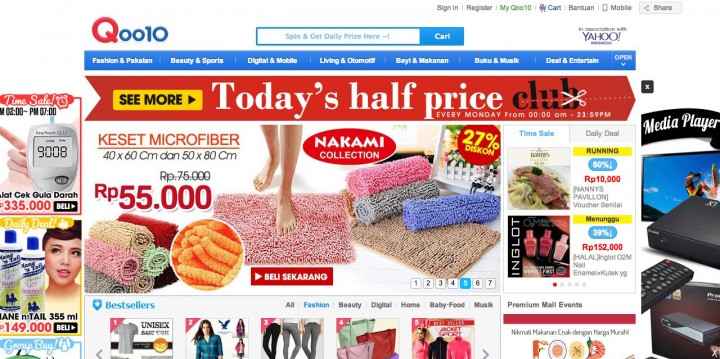 Qoo10 is a joint venture project between eBay and South Korea's marketplace Gmarket, and it just celebrated its second anniversary in Indonesia. The team achieved over $2.5 million monthly revenue in 2013, which is a 500 percent growth compared to the year before.
Alexa rank: 156th in Indonesia.
(See: Qoo10 founder once worked in the middle of the desert – and he hated it)
---
---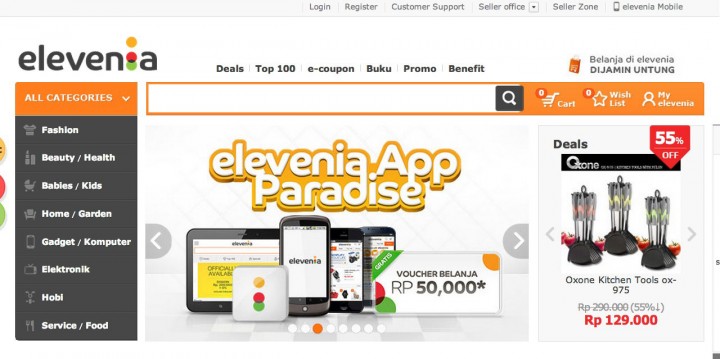 Elevenia is one of the new players that emerged recently to shake things up in the marketplace space. It is a joint venture between telco XL Axiata and South Korea's online and mobile service firm SK Planet. Both put in a total of $18.3 million as initial capital for this project and the two backers are optimistic it can win the market in the long run.
Alexa rank: 157th in Indonesia.
---
---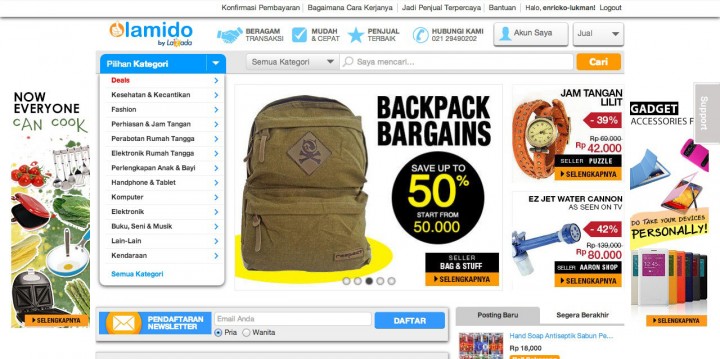 Armed with Rocket Internet's expertise and funding, Lamido is another new player that wants to shake things up in Indonesia's marketplace battlefield. The startup shares some infrastructure with Lazada Indonesia, such as logistics, operations, and technical know-how. Lazada Indonesia is doing very well, and we'll see if the partnership works well for this site as well.
Alexa rank: 443rd in Indonesia.
---
---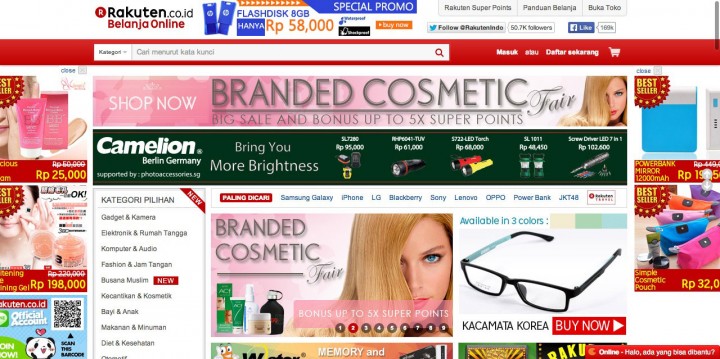 Rakuten Belanja Online saw some blood shed last year with the joint venture separation from former partner, media conglomerate MNC. Now a stand-alone subsidiary of the Japanese eshopping titan, Rakuten still believes that it can get something out of Indonesia's market – but it will have to fight many new rivals to do so.
Alexa rank: 447th in Indonesia.
Others
---
---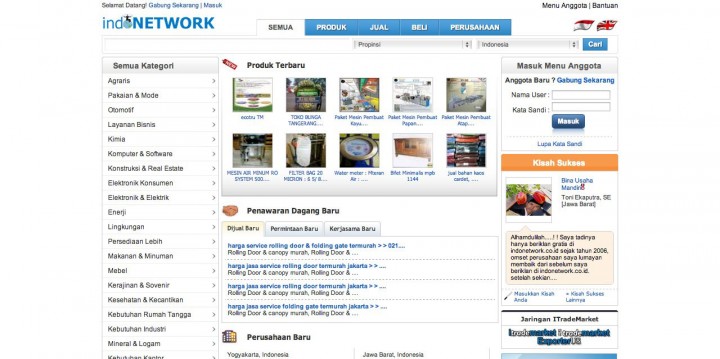 Indonetwork is a C2C and B2B marketplace website. You can find a lot of items here, whether it is for individual's need or for exports. The site only accepts paid memberships.
Alexa rank: 77th in Indonesia.
---
---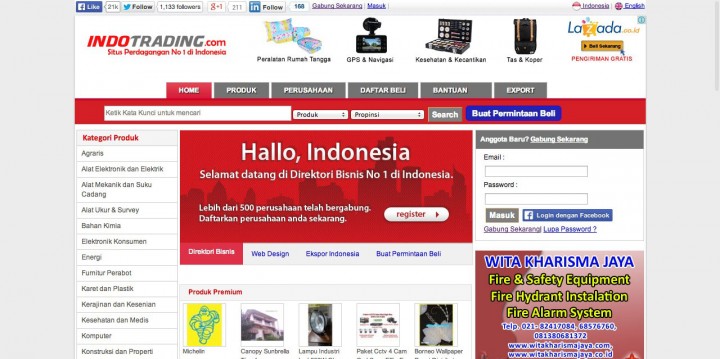 As a B2B marketplace, IndoTrading only allows businesses – not individuals – to post items on the site. The platform now has about 50,000 products and will launch an escrow payment system for its export page soon.
Alexa rank: 360th in Indonesia.
(Read: IndoTrading Plans to Emulate the Success of China's Alibaba in Indonesia)
---
---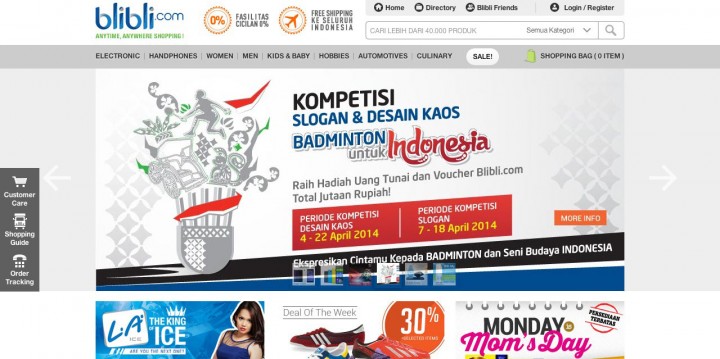 Blibli brands itself as a shopping mall and only accepts registered businesses to open a shop on the platform. Launched in September 2012, Blibli now has a total of 60,000 items in its website.
Alexa rank: 195th in Indonesia.
---
In 2013, Indonesia was shocked to see Multiply shutting down after a few years in the intense eshopping battle. Daily deals site LivingSocial also quit Southeast Asia thanks to iBuy Group's regional acquisition. All players must be wary of the second coming of eBay in the form of Blanja.com.
There are other players and trends to look out for other than the ones mentioned above. We are seeing a trend for vertical classifieds sites like PropertyGuru's Rumah, iProperty's Rumah123, and Rocket Internet's Lamudi for real estate, and iCar Asia's Mobil123, Rocket Internet's Carmudi, and RajaMobil for cars.
There's exciting growth for vertical B2C businesses especially in fashion and travel industries. We have Berrybenka and HiJup for fashion as well as Traveloka and Nusatrip for travel. There are still many more vertical startups to look out for.
We are also seeing good growth among price comparison engines in the country. In the last two years we saw new players emerge like Thailand's Priceza, Kakaku's PricePrice, and Pricebook to fight the local players PriceArea and Telunjuk.
---
Disclosure: East Ventures invests in Tokopedia, Berrybenka, Traveloka, PriceArea, as well as Tech in Asia. Read our ethics page for more information.↩
---
This is an updated post from Ratri Adityarani's "8 popular online shopping sites in Indonesia".
---