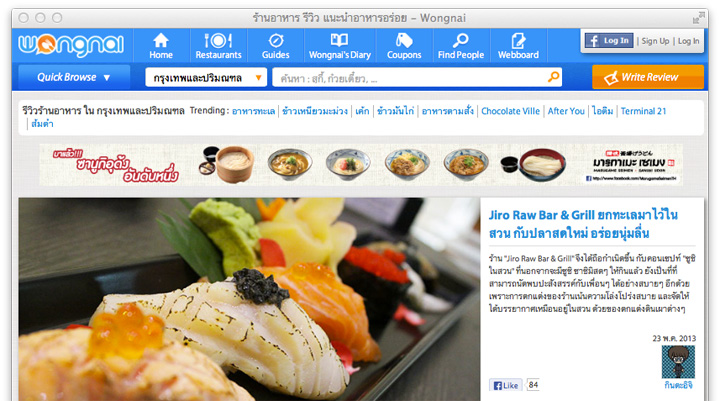 Founded in 2010, Thailand-based restaurant review startup Wongnai has today announced that it has just concluded a Series A financing round from Japan's Recruit Strategic Partners (RSP), a subsidiary of Recruit Holdings in Japan. The investment sum wasn't disclosed.
With more than 500,000 downloads on the iTunes App Store and a database of 110,000 restaurants in Thailand, Wongnai claims to be the biggest restaurant review company in the country. Akihiko Okamoto, the president of RSP, says in today's announcement that he expects Wongnai to become the dominant number one player in terms of Thailand restaurant reviews. Back in Japan, Recruit has the experience of running Hot Pepper which is a popular restaurant information and discount coupons website. The experience and guidance from Recruit should benefit Wongnai.
Wongnai CEO and co-founder Yod Chinsupakul said today:
While we are confident in our products, our team continues to work hard to get people what they look for: accurate restaurant information, quality reviews, and make it fun and easy to use. I am confident in this relationship. Recruit Holdings has track record of success running similar services in Japan. There are many things to be learned and experiences to be shared
With this investment, Yod told us that the company plans to expand outside of Bangkok but will still stay within Thailand. Wongnai currently has about 16 people in the team and plans to hire up to 23 by the end of this year.