Tencent's WeChat (known as Weixin in China) is big — like 300 million users big. But Chinese tech companies have learned from weibo that hundreds of millions of users doesn't necessarily mean giant piles of money, and monetizing social media apps without annoying the hell out of your users can be a tall order.
Chinese startup blog 36kr is reporting that WeChat is testing a new feature that would allow public WeChat accounts (like those of brands) to create custom menus to facilitate shopping and other kinds of transactions within WeChat itself. In the image below, for example, you can see that where previously a brand could communicate only via posted messages, this beauty brand has been able to add customized buttons along the nav bar at the bottom. The one on the left, for example, links to the company's official site; the center button leads customers to a phone number through which they can set up appointments, and the button on the right will automatically display shop locations near the user based on their phone's GPS location.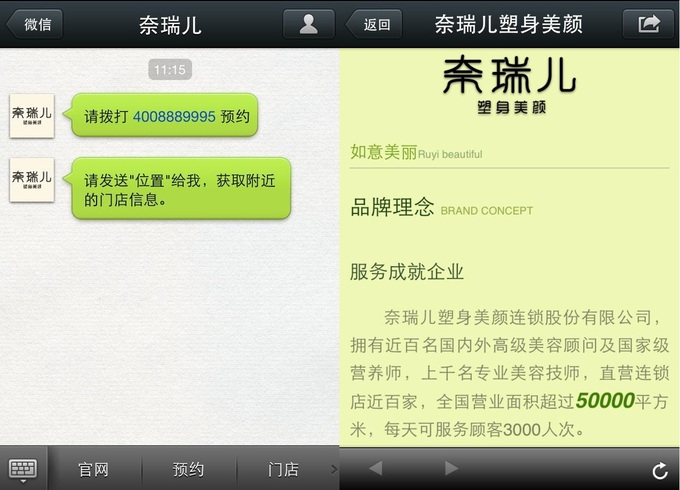 The service doesn't actually feature a mobile payment solution yet — though Tencent has its own Tenpay, which is rumored to be on its way into WeChat in China — but a Tencent rep told 36kr that more changes to WeChat's brand accounts would be coming this year, and it seems quite likely that the company will try to facilitate in-app purchases and then take a small cut from the transaction like other online and mobile payment solutions. It's all just another step in the direction of Tencent putting the entire mobile internet inside the ever-expanding WeChat app.
At present the custom brand menus feature is available only to a very limited number of test cases, but it seems likely that Tencent will begin to roll out this, and other monetization-focused changes, sooner rather than later. WeChat has momentum and has been evolving at a breakneck pace; Tencent likely won't want to slow down for fear that they might get passed by one of the many other excellent chat apps available to Asian users.
(via 36kr)