"This is more or less what you think it is," wrote the guys from Toumingti about I Want to See a Dentist, a Shenzhen-based startup that advertises itself as "a dental appointment booking website." They're not wrong. I Want to See a Dentist is exactly what it says it is.
I took the site for a quick spin, and found that it's all pretty straightforward, although also extremely limited. At present, you can only book appointments in Shenzhen, but if you do happen to be there, after registering and activating an account, you can quickly and freely book an appointment with virtually any dentist in the city. After picking the district and hospital of your preferred dental care provider, you get a very nice layout with clickable schedules laid out next to decent-sized photos of each dentist available.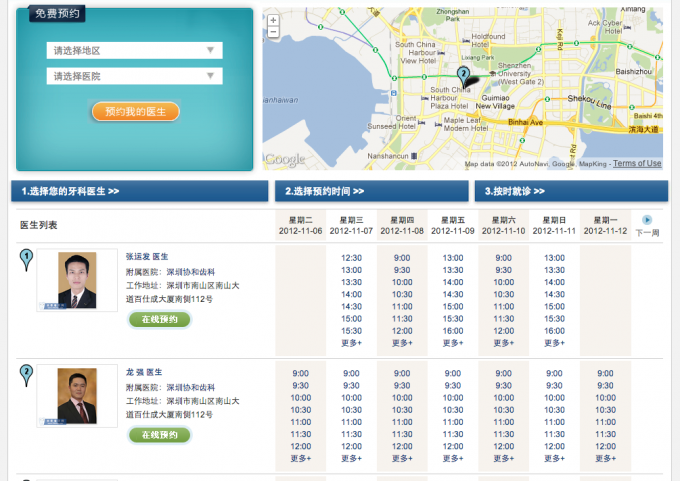 Before this, I was pretty skeptical about this service. After all, you can just make a phone call to book your trip to the dentist; it's not like that's a particularly time-consuming or difficult endeavor. But it really is kind of nice to see this visual layout of all the available appointments and doctors. And as the site points out, this allows users to make their appointments at any time, not just during business hours, so it might be especially convient for folks who don't have time to call the dentists' office while they're at work. And although registration currently has some problems — I never received the confirmation email I needed to activate my account and book an appointment, though this may have been an issue on my end — this is the kind of service that could be huge if the folks behind it were willing to expand its scope a bit.
Geographically, of course, it would need to go nationwide, but it would also be great to see the service adding other kinds of medical services. Using a specific website to book all your dentists appointments just seems weird, but using a site to take care of all your medical booking requirements would be cool, and if hospitals were willing to play along, it might even reduce the horrific wait times many hospitals experience because patients just show up and take numbers instead of being able to book appointments in advance.
Now I'm no expert on the Chinese medical system, but from what experience I have had in hospitals, getting this level of integration and cooperation even just for dentists in Shenzhen was probably quite difficult, so I don't want to downplay what I Want to See a Dentist has done too much. But I'm writing about the startup here not because of what it is, but because of what it could be. The company is also working on a smartphone app so that users can book dentist appointments on the go, which is probably the least exciting-sounding app ever. But again, with an expanded scope, it could actually be really useful.
It could also probably be really profitable. Since the service is free to users, I'm guessing it gets a small referral fee from the providers it has signed up. Needless to say as long as there are users on the site, the more providers signed up, the higher that number goes. And of course, the more providers signed up, the less marketing and promotion is required to attract other dental care providers and users to the service. So while the service is a bit useless at the moment unless you live in Shenzhen, I suspect it could really catch on and rake in some serious money if the team behind it is capable of expanding it quickly enough while still keeping costs low. In the meantime, if you're in Shenzhen and need a dentist, I Want to See a Dentist is your best new way to find one!