We've written a fair bit about Beijing-based Wandoujia over the last couple of years, but mostly concerning its status as one of the most popular and most trusted Android app stores in China. In truth, Wandoujia's mobile app and adjacent desktop syncing client offers a lot more than that, including the video search feature it just released yesterday. I decided to give both the Chinese and international versions (of both the Android and the PC sync app) a try to see what they're all about. We'll start out with the newest feature, video search.
Where the hell is the Harlem Shake?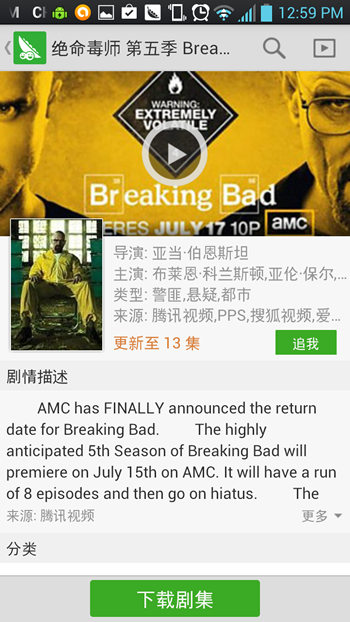 In the Chinese version, Wandoujia aggregates videos from most most of the big players in the country's internet video market: Youku, Tudou, Sohu, LeTV, iQiyi, and more. A slick interface makes it simple to search, subscribe, watch, and even download videos. No external video player is required. The video plays seamlessly inside the Wandoujia app. You can opt to either receive alerts or download new episodes of your favorite shows as they are released. The downloads will only take place via wi-fi so as not to deplete your data plan.
I was a bit disappointed to see that searches for memes and homemade videos don't return much. Typing in 'Harlem Shake' in both Chinese and English, for example, doesn't list any relevant results. That's a shame, because I know they exist. Music video results were also pitiful. Searching both artist and song names from local and international pop artists yielded next to nothing. Wandoujia says it's adding 3,000 videos every day and is now at almost 600,000 total, so hopefully the lack of content will taper off in time.
Wandoujia fared better when I searched for more established TV shows and movies. Every episode of Family with Children (家有儿女), an old sitcom I use to study Chinese, was at my disposal, as was every season so far of Breaking Bad. All the content I found was free of charge.
The international version of the PC/Mac sync app (dubbed SnapPea) only supports YouTube. Wandoujia probably couldn't get away with supporting the Chinese video sites in the West, as they tend to play fast and loose with copyright law. The download and subscribe features are still available, though.
Desktop syncing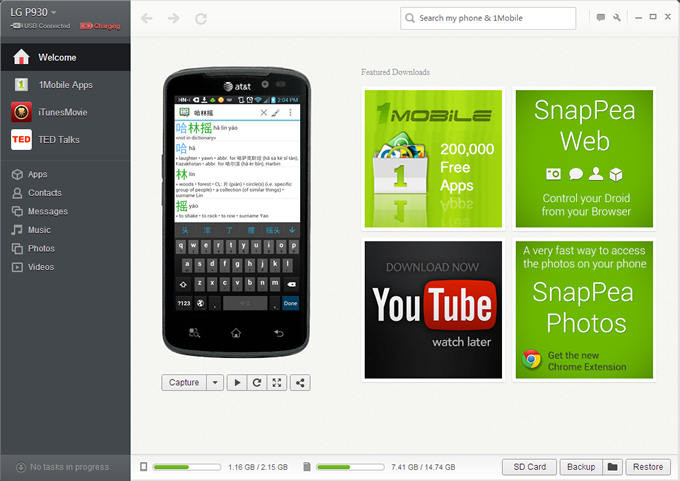 While SnapPea and Wandoujia definitely target the Windows and Android audience, they do offer an APK installer for Mac OS X users. The desktop client works as a sort of command center for everything on your phone, a bit like iTunes does for those on iOS. Connect via USB or wi-fi, and you can manage apps, photos, videos, contacts, SMS conversations, audio files, and more. SnapPea lets users easily share media to Facebook, while Wandoujia lets users select Weibo, Renren, and QQ.
The application opens up to a real-time feed from your phone screen, and you can control many functions such as installing apps or responding to SMS through your computer. Unfortunately, you can't operate individual apps from the desktop client, which would be useful for apps like WeChat and Spotify.
Should you get it?
In China, you have access to Wandoujia's sizable app store both on your phone and on the desktop client, which is especially convenient for phones bought in on the mainland that can't access Google Play. SnapPea uses the 1Mobile app store.
The video search still has a long way to go as far as its library is concerned, but it works well for people who just want movies or TV to watch on their mobile device without a hassle. If you're the kind of person who likes to have all their computers and devices synced up, give Wandoujia's or SnapPea's desktop client a shot. It's an effective all-in-one solution to manage your smartphone's media and apps, and you can do it on a screen bigger than your hand.
Wandoujia's desktop client, which installs the app on your Android device from your computer, can be downloaded here, and SnapPea here.