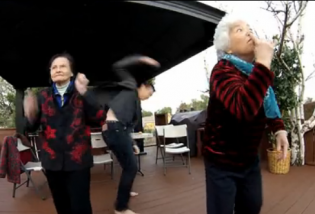 Now that everyone is over a certain horse-riding dance, the next music meme all over the internet is the Harlem Shake. It's already taking off in China in terms of both being shared over social networks like Weibo, as well as some recreations of the easy-to-replicate, freak-out dance.
Dubbed "Ha Lin yao" in Chinese, we've found three versions of the Harlem Shake made by Chinese netizens. As you can see: it's the same simple formula the world over: one lone dancer gyrates to the building intro, and when the bass drops that's when everyone else gets down and dirty. Masks or helmets are encouraged, but optional. Unlike a certain Korean pop sensation, there's no set dance routine, making this the perfect meme for the reality TV attitude-is-more-important-than-talent generation.
[UPDATED two days later with video from Oppo]. There are not yet many Chinese reworkings of the Harlem Shake, but these three four stand out:
Startup shakin'
The perfect place for us to start is with the Shanghai-based startup NeoNan, a sort of GQ-like portal for men, which got its office pumping to the Harlem Shake. Look out for some nice horse-ridin' meme-mixing going on in here:
Oppo Harlem style
We've updated the post with this one from phone-maker Oppo:
Gyrating grans
Next, some rocking grandmothers, one of whom throws some renegade nose-picking into the mix:
On drugs
Lastly, what looks to be a pharmacy is turned into a dancefloor by these Chinese students. Also, who left students to run a drugs store?