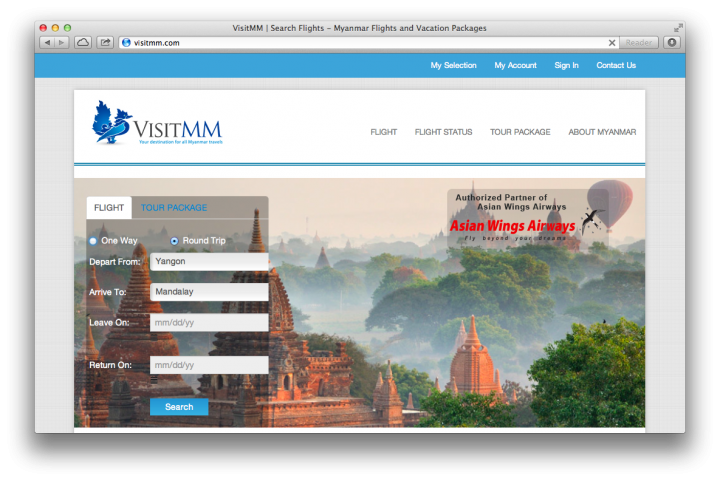 In Myanmar, there are only a few startups that we're aware of here at Tech In Asia. There's Squar, which is basically one of the first ever social media sites built for Myanmar specifically. There's 2C2P, which is attempting to bring online payment into the country. And amidst all of that, 3G is coming soon and Google just entered the country. And of course, while all these big and small tech companies attempt to be first movers in the recently opened up nation, travel is a big draw for many web users.
This is why VisitMM is positioned perfectly to take advantage of the new onslaught of tourists who want to see an untouched Myanmar. The website, which launched in April this year, is the only site that currently enables online booking and issues out e-tickets in Myanmar. That's right. They're the only one that can do this stuff online. They're on the cutting edge of Myanmar tech right now.
Currently, most travelers who want to come to Myanmar are faced with having to contact people on the ground or by going through a tedious email process. VisitMM solves this by allowing travelers from the US, Europe, and larger Asia nations to book online with credit cards. In the near future, Michelle Winn, the founder of VisitMM, and vice president of Frontiir, the Myanmarese technology company behind VisitMM, says that they're anticipating a crowded market:
The travel industry in Myanmar has tremendous growth currently and hotel occupancy rates are high. The booking process hasn't changed much since the manual days. I suspect that there will be others trying to capture the online booking market space for Myanmar shortly. Regardless, we want to be able to compete in pricing and customer service.
As Myanmar gets more developed, we're sure to see more services like these pop up to meet the growing demand of a new population and an eager tourist population.
(Editing by Steven Millward)