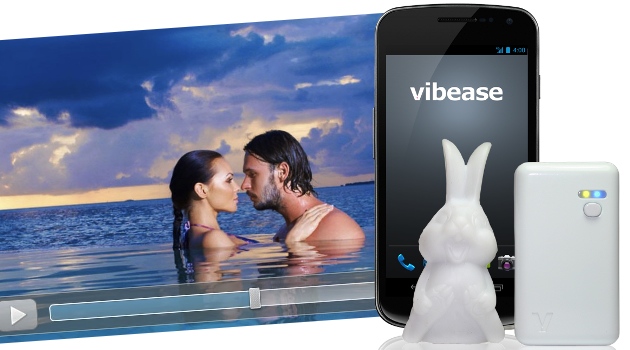 "We're about helping women to achieve orgasm." That's not the usual startup pitch, but then Vibease has a deeper purpose than most smartphone apps. With its own vibrator hardware (pictured above) at the business end, and the app in hand, it wants to help couples have a healthy and fulfilled relationship – and make out – wherever they are in the world.
The Vibease vibrator, hooked up to an Android device or iPhone, can be controlled by either the women on her own, or her lover. If alone, the lady can view a downloadable 'fantasy' on her phone that's a mood-altering video that buzzes the vibrator in sync with the vid. If with her partner, the pair can engage in a bit of foreplay in the app – in a Whatsapp-style interface – and the app can be controlled remotely.
All those fantasies can be browsed and downloaded – when Vibease launches later this year – in-app. Developers can create these mood-movies and generate revenue from them within the mini online store, and Vibease takes a cut from it.
In the demo, which finished a few minutes ago, the vibrator itself was indeed demoed – although only on screen, leaving the rest to the imagination. But the Arena crowd enjoyed it, and the buzzing device was greeted with laughs and cheers. Dema admitted that his wife was the first tester, and she enjoyed it a lot. Cue more laughs and whoops!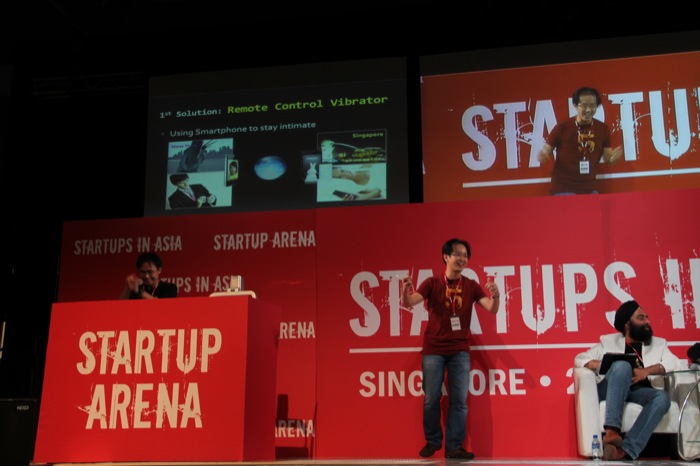 Speaking to PO before taking to the Startups in Asia stage, the co-founders Dema and Steven (Dema is pictured above in the red T-shirt) explain that the fantasies will be erotica, not porn, so they're not really so different from what Apple allows in its own store. Plus, women tend to be turned on by erotica, not the kind of hardcore imagery that guys tend to prefer.
The startups co-founders happily admit that the app and sexy add-on can be used by anyone – for gay couples, for people having affairs; anything goes – but the service's aim is for any kind of long-term relationship to remain fulfilled. Orgasms are, of course, a vital part of sexual satisfaction, and the Vibease team reckon that they're powerful weapons of massive delight that can keep people happy and in love. Vibease's Dema cites stats that "only 47 percent of women in the US achieve orgasm – and that's even lower in Asia," which can lead to dissatisfaction.
Both the Vibease app and hardware are fully conceived and close to finalized already, and the team aims to launch both in Q2 or Q3 this year. The app will be free, but no price has yet been set for the hardware (though US$99 has been suggested), which might be the rabbit-shaped vibrator shown above. That's a popular shape, apparently, but it might change.
We've already seen that hardware startups are a rare breed, so that makes it one to watch. Oh, and because it's a vibrator as well.
This post is a part of our coverage of Startup Asia (Singapore), our first tech conference. Full coverage of the event can be found here, or for our RSS feed, click here.