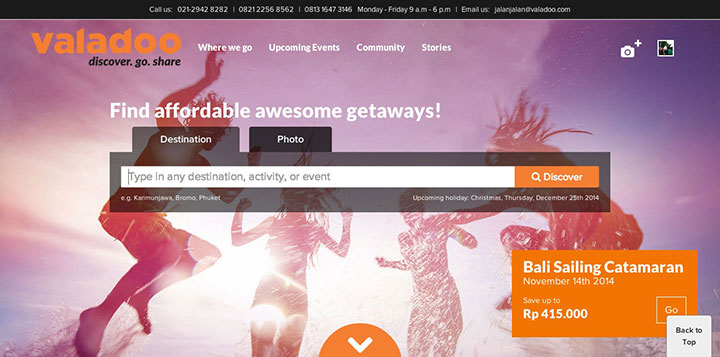 Two Indonesian travel sites – Valadoo and Burufly – have today announced that they are merging together under the Valadoo brand. "[I]n a bigger picture, it's a mutual collaboration between Valadoo's experience and strength in commerce, and Burufly's strength in social network and photo content," says Jaka Wiradisuria, CEO of Valadoo who continues his role in the merged entity.
With this, both companies also relaunch the Valadoo website with a more targeted focus on customers. Wiradisuria explains, "The old Valadoo were all over the place when it comes to target market. Nowadays with the combined entity we will put disproportionate focus on the youth and young adult market between 18 to 35 years old." This change of company focus is then reflected by the new website's design.
Pete Goldsworthy, CEO of Burufly, will become the chairman of the merged entity. Existing investors Wego, Ardent Capital, Walden International, and Batavia Incubator still have a stake in the merged company. It's worth noting that Ardent Capital cofounder's Linkedin page refers to this whole deal as an acquisition as opposed to merger.
See: 9 Southeast Asian startups you should invest in right now
Bouncing back in style
The new Valadoo website has about 300 to 400 local and international travel packages, with over one million registered users from Burufly's social network feature. Users can discover various travel destinations based on photos, articles, and upcoming events – as well as sharing travel pictures on Valadoo.
According to SimilarWeb, both Valadoo and Burufly are having a tough time as each – especially the latter – are on a downward trend in the last few months. Wiradisuria explains that both teams had been focused on the merger deal for the past three months. The merger discussion started in April this year, and both teams decided to turn off all marketing campaigns and initiatives during this period to make the transition more effective, thus explaining the downward trajectory.
Wiradisuria adds that his next focus is creating better harmony between ecommerce and social to make Valadoo a "home" for any young traveler in Indonesia. The now 20-man team will also start diversifying its range of services according to its market demand. He believes that the best is yet to come:
Considering the merger has just been around for effectively one month, all the stuff that users experience at Valadoo by now – visual, features, user flow – is actually just the beginning. The real impact of the merger for the users will only be seen a couple of months from now."
Valadoo received investment from Singapore's travel ecommerce site Wego in May 2012. Since then, Valadoo went on to become more social by producing web series videos about travelling in Indonesia.