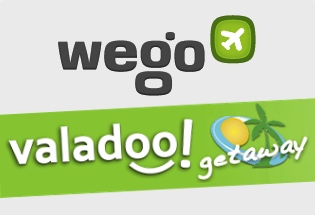 Wego, a travel search engine company here in Asia, has made an investment in Valadoo.com, a social commerce startup focused on curated travel packages. With Indonesian travellers as its target market, this move to pick up Valadoo shows Wego's commitment to expansion in Indonesia. The size of the investment hasn't been made public.
Valadoo, which pivoted from a Groupon clone into an e-commerce site, curates its own packages and travel getaways with a focus on domestic destinations. But there are international destinations too. Its products include exotic dive packages in Raja Ampat Papua, Derawan Kalimantan, island hopping experiences at Pantai Belitung and Karimun Jawa, and for international travelers they have shopping trips to Hong Kong and Singapore.
Valadoo also has two key differentiators in its 'Valadoo Travel Consultants' and 'Jelajah.' Valadoo Travel Consultants consists of experts that help fulfill customers' needs by customizing trips according to what they want. Jelajah is a digital journal by travellers which is written and edited by the Valadoo team themselves. It has many avid followers on Facebook and on Twitter, and serves well as a consumer touch-point.
In this deal, Jaka Wiradisuria will continue as CEO of Valadoo while Wego co-founders Ross Veitch (CEO) and Craig Hewett (CCO) will both join the Valadoo board of commissioners; Graham Hills (managing director of Wego Indonesia) joins the Valadoo board of directors. Valadoo will remain as an independent business while it will benefit from Wego's resources and expertise to scale.
Graham Hills explained more on the deal:
Valadoo recognised early the demand among urban Indonesians to explore and enjoy domestic travel. The country is in a discovery phase and the tourism network is rapidly expanding to cater to it, but the options need to be affordable. Valadoo therefore has a great proposition and a talented team.
Wego launched a Bahasa Indonesia version of its site at the end of last year and is aggresively expanding its domestic operations by partnering with local travel agencies and businesses to enhance its offers for hotels and flights. The newest addition is locally relevant deals and packages, which is – in my opinion – the reason for this investment. The travel startups scene in Indonesia is definitely getting hotter!