Isriya is a Thai tech geek and ICT policy researcher. Co-founder of Blognone and Siam Intelligence.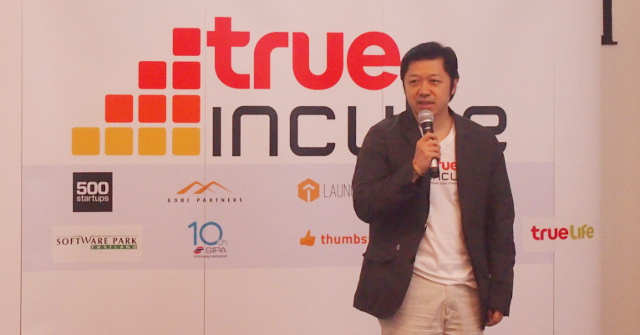 True Corporation (TRUE:TB), the third largest mobile operator in Thailand, just announced its tech startup incubation program yesterday.
The True program is called Incube. It is not so different from the usual tech incubation programs: idea pitches, workshops, prototyping and meeting with possible funders. Winning teams will get a chance to work with various tech infrastructure platforms from True, and also get a course in the US at 500 Startups.
True is the latest Thai carrier in the mobile app incubation field. AIS and Dtac, number one and two in the mobile market, already launched their incubation program a few months ago. This makes 2013 the first time in Thailand where all three operators are involved in the startup scene.
Mobile mentoring
AIS started its The StartUP program in 2011 and relaunched it again in 2013. The 2013 campaign already has five teams for the bootcamp stage (running to the end of July). AIS doesn't have any US partner in the program but it has an extensive SingTel network in Asia as a strong advantage.
The Dtac campaign is called Dtac Accelerate, which has just selected the top 20 candidates for its workshop round (pictured above). The outstanding aspect of Dtac's campaign is the guy who is in charge. Krating Poonpol is an ex-Googler who was in the original Google Earth team and has good links to the American tech startup ecosystem. Blackbox VC is Dtac's foreign partner.
No choice but the telcos
The startup scene in Thailand is already dominated by these three big mobile operators. There are other incubation programs from other parties, both government (Thailand Software Park, SIPA, NSTDA) and private ventures. But the reach of these programs can't match the big three's marketing power.
Telcos offer tech startups money and advice, but also their established and extensive distribution/marketing network. For instance, Ookbee, Thailand's largest e-bookstore, had much more reach after AIS bought a stake in 2012.
Inferior payment infrastructures in Thailand might be another reason supporting telcos campaigns. The majority of Thai consumers are afraid of credit card hacks (one of the country's biggest urban myths) and prefer bank transfers when buying stuff online. This situation makes life tough for app makers who want revenue from direct payments. Carrier billing can be a good savior and going with one of the three telcos might be a good choice at the start.
Thailand is also lacking in big local tech companies. Besides some content portals (Tencent's Sanook, Kapook, Mthai) and e-commerce (Rakuten's Tarad), there is no broad platform company like Baidu, Tencent, Yahoo, SoftBank, or Naver in the country. All of popular online services in Thailand are from outside the nation: Google, Facebook, Instagram, Twitter, WhatsApp, Line. There is no place for original Thai services for the mass market anymore. That's why the telcos are the only natural choices for Thai startup wannabes.
There is no downside for the participants yet, though greater choice from a larger ecosystem – like in China, South Korea, Japan – would be ideal. Before the end of 2013, we will see the final outcome of these incubation programs and can decide whether they are the proper way to empower the tech startup ecosystem in the country.