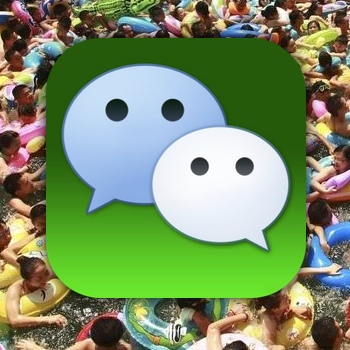 China's biggest web company by revenue has just posted its Q1 2013 financial report. Tencent (HKG:0700) reports rocketing revenues and profits for the whole group, which covers products across social media, gaming, advertising, e-commerce, media, and more. Tencent's quarterly revenues hit US$2.161 billion, up 11.5 percent on Q4 last year, and up 40.4 percent from the same period last year; net profits reached $649.4 million in Q1, up 17.3 percent QoQ or 37.4 percent YoY.
Tencent makes China's biggest social export, WeChat. In today's report, the company revealed that it now has nearly 195 million monthly active users on the social messaging app (194.4 million to be precise); that's up 23.1 percent on the previous quarter, which is up 228.4 percent in a year. WeChat has over 300 million registered users, and is likely to exceed 400 million some time this month. As we noted last week, WeChat's significant number of active users puts it close to surpassing Whatsapps's 200 million actives, though about 90 percent of WeChat's user-base is within mainland China, so it's not that much of a global success yet.
Other social numbers:
QQ instant messenger hit 825.4 million monthly active users, up 9.8 percent on Q1 2012. QQ's peak simultaneous users reached 173.0 million, which was down 3.3 percent across the year.
Qzone, the broader social network around QQ, got up to 611 million monthly actives, up 5.9 percent in a year.
QQ Game Platform saw peak simultaneous users of 9.2 million, up 5.9 percent over the same period.
In other financial data, value-added services accounted for 78.7 percent of revenues in Q1 this year, reaching $1.72 billion. That's up 13.6 percent from the last quarter. Online gaming revenues increased 19.3 percent over the same period to amount to $1.21 billion. That was mostly down to China-area gamers on things like Crossfire, and was boosted by increased gaming activity during Chinese New Year.
Founder, chairman, and CEO Pony Ma says in today's report:
During the first quarter of 2013, we saw broad-based growth in user engagement and revenue across our key activities. This growth has enabled us to fund investments in longer-term opportunities such as WeChat international user acquisition, online video content aggregation, and e-commerce footprint expansion, while maintaining a healthy expansion rate in earnings and cash flow. We saw both strategic and financial benefits from our portfolio of investee companies, including a further special dividend from Mail.ru.

We will continue to invest proactively in innovation and technology, and to cultivate our open platform, in order to capture the mobile opportunities ahead and strengthen our position as the leading internet platform company in China.
WeChat hasn't really been monetized so far, but Tencent will soon endow it with social gaming integration similar to what has been done by rival apps Line and KakaoTalk.
Find the full report on Tencent's investor relations page.