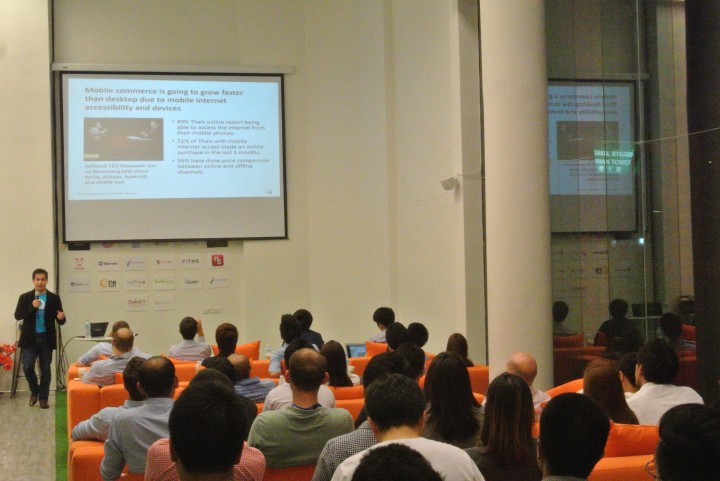 It's been a little over a week since the military junta took over Thailand. That also means it's been a little over a week since our last Tech in Asia Meetup in Bangkok on May 22nd at Launchpad.
At the event, aCommerce CEO Paul Srivorakul gave a keynote covering ecommerce trends in Thailand.
Besides offering his predictions for coming ecommerce trends, Paul also talked about aCommerce's formula for success and shared some interesting figures.
Thailand has 24 million internet users. The ecommerce sector here is worth US$3 billion. Physical goods account for US$1 billion. The projected growth rate is 30 percent year on year, and we've seen the ecommerce industry stay strong even during the ongoing political instability.
Paul stressed that mobile commerce is big in Thailand and predicts mobile commerce will grow faster than desktop. He said that 51 percent of Thais with mobile internet access made an online purchase in the past three months. In addition, 55 percent have compared prices between online and offline channels.
In light of the coup announcement earlier that day, we were surprised to see a handful of audience members show up for the meetup. Thank you to everyone who fought through the traffic and made it to event. For those who missed it, here's the video recap of Paul's presentation.
A huge thank you to our awesome sponsors:
---
Corporate sponsors
---
---
VC sponsor
---

---
Startup sponsors
---
---