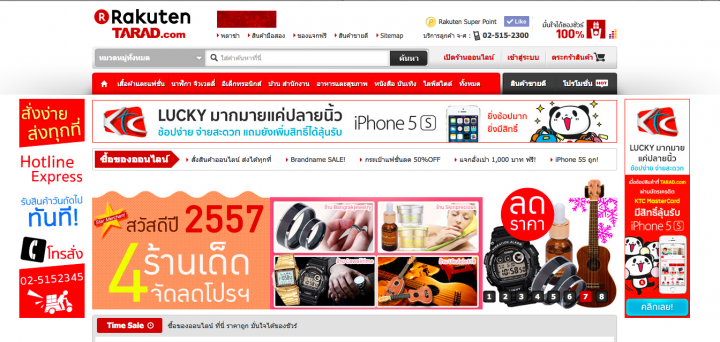 The Bangkok shutdown has been going on for a week already and it doesn't seem like it will end anytime soon. However, even before the shutdown, there were political protests going on for months in many cities in Thailand. Some claim that all this unrest could hurt the economy. That's because malls and businesses around the shutdown areas have to close early each day – or pull down the shutters for weeks as the protests rumble on.
But there's another type of business that's doing great despite the political crisis. That's online shopping.
According to one of the largest e-commerce companies in Thailand, Rakuten's Tarad e-store, the site saw sales increase by 71 percent during the last three months (October to Decemeber 2013). Total site visits shot up by 93 percent in that period compared to the same period the year before. Of course, online shopping is now a more attractive option because, in some parts of the capital, it's not easy to leave your house.
Mobile e-shoppers
Looking at mobile-only e-shoppers in Thailand, the growth of sales from phones increased by 637 percent during the ongoing protests. Mobile traffic to Tarad grew by 564 percent. This big boost could also be the result of Rakuten's mobile commerce campaign that the company started late last year as smartphone usage grows in the country.
Pawoot (Pom) Pongvitayapanu, the president of Thai e-commerce association and the founder of Tarad, explains that the local demand for goods is strong in the country, regardless of the political situation. Speaking to Tech in Asia in Bangkok today, Pom explained:
During the last three months, Rakuten Tarad has been watching the situation closely and none of our activities in our plan were cancelled because we're confident in the Thai market still. This has proved that e-commerce is the solution for future businesses where your business can run smoothly, without dropping, no matter what the situation outside is like.
(Editing by Steven Millward)