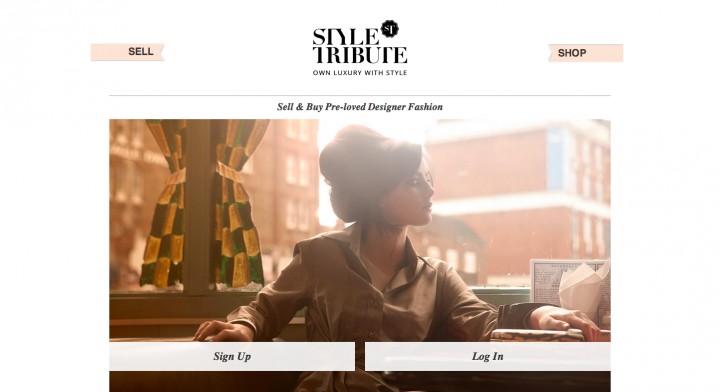 Ladies, tell me if this sounds familiar: despite having a wardrobe chock-full of clothes that you've never worn before, every new fashion season you'll be out there swiping your credit card. If you're reading this and shaking your head, congratulations – you belong to a tiny minority.
Modern consumer-to-consumer (C2C) selling apps offer an elegant solution to the problem of overcrowded wardrobes. They help people sell idle items to buyers who are looking for a bargain. Marketplace apps, such as Singapore-based Carousell, have become extremely popular with this crowd. However, Stephanie Crespin, founder of fashion ecommerce website Style Tribute, wants to focus on the top end of the secondhand market.
"
In Asia, the high-end fashion C2C secondhand market is not properly exploited yet. However, on a global scale many secondhand fashion businesses have flourished, especially in the US," she explains.
Style Tribute was one of ten startups who participated in the Startup Arena Singapore 2014 competition just last month. They recently raised a round of seed funding from Great Simians, Crystal Horse Investments, as well as three angel investors, one of which is Trevor Healy, CEO of Amobee and former VP/GM of Paypal. The amount is undisclosed.
Catering to young corporate women
The idea for Style Tribute was born from Crespin's passion for vintage and unique designer pieces. While in Paris and Brussels, she spotted several brick-and-mortar stores where she could sell her idle couture pieces and uncover incredible luxury products. As work became more demanding, though, she lacked time to hunt down original pieces or sell items to shops.
"I then turned to Ebay, and had a really frustrating experience there. Selling was a hassle, and finding a fashionable piece on Ebay was like looking for a needle in a haystack," she recalls. With this in mind, she created a platform for young corporates such as herself who are passionate about fashion.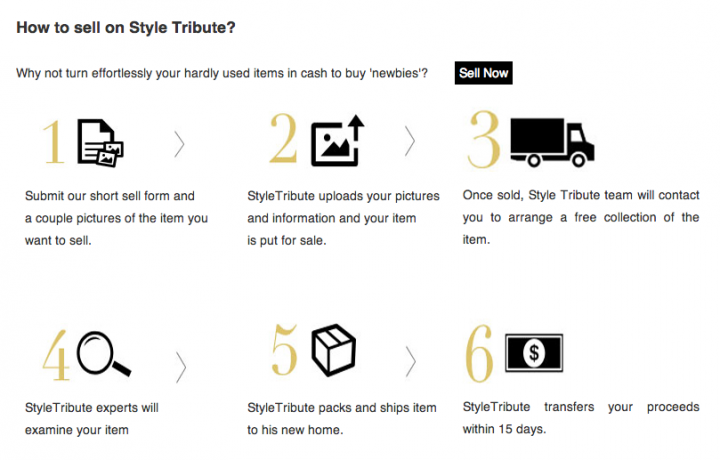 Selling on Style Tribute is easy enough. All you need to do is submit a form and a couple of photos of your item, and the team will take care of the rest – uploading your pictures and information onto the website, picking up your item from you, shipping it to the new owner, and finally transferring the proceeds to you.
Crespin thinks that this concept will work because it addresses the needs of the current generation of working women, who typically have one too many designer pieces but are simply too lazy – or short of time – to sell them. They might also have no idea where they can get a good price for them. She elaborates:
They are smart shoppers – they know how to find a good deal, enabling them to wear as many stylish designer items as they possibly can with their income level. After all, why should one have to pay full price when she can get it on Style Tribute at 85 percent off? 
We have arrived at a generation of value seekers and educated shoppers who are knowledgeable about the different purchase options available. Prices have never been more transparent, and finding the items at the best price is within everyone's reach. Consequently, we are engaging everyone independently of their social class or economic power.
An overcrowded wardrobe might not be the only reason why women want to sell their clothes. According to Crespin, the motivations vary widely. "One of our first clients was moving to a colonial
 house, and was concerned that the humidity would damage her gowns," she says. "Our latest client had experienced an event's theme change at the last minute, and the S$3,000 dress she bought specifically for that occasion was no longer appropriate.
"
She might just be on to something. So far, the business moved rapidly forward, quickly outgrowing her apartment, then a storage warehouse, and finally settling into a 2,800-square-foot warehouse. Sales multiplied by a factor of six since business began to take off last October. She did not disclose exact revenue figures.
"We continue to receive new stock on a daily basis. We are currently uploading around 70 items per week, but soon we'll be unable to keep up with the inventory coming in," Crespin reveals. "Thus, we will start promoting the DIY selling option, in which people can upload the pics of the products themselves. There will still be a screening of each product before it is posted, as we want to preserve the quality of our assortment." She adds:
Our customers know we have high standards – we accept only high-end designer clothing in pristine condition – and we want to maintain this at all costs.
See: 14 popular ecommerce sites in Singapore
Maintaining high standards
It is precisely in this manner that Style Tribute wants to set itself apart from the crowd of secondhand fashion businesses: by guaranteeing the authenticity and quality of products on their platform, as well as providing a premium service to customers.
The ecommerce website's white glove service is currently free of charge. The team will arrange for the collection of your item, as well as take care of the photo shoot for you.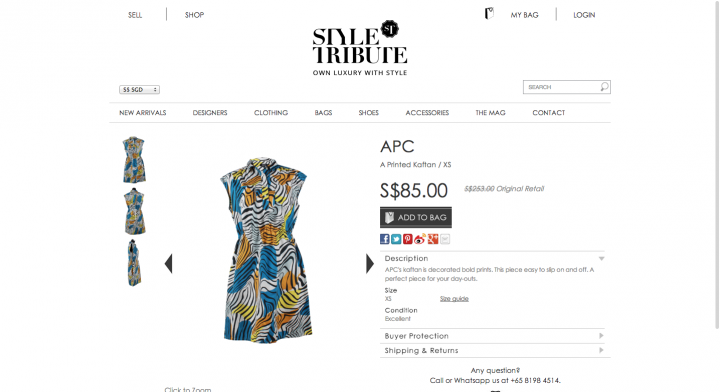 This aspect of curation and providing end-to-end premium services is one that estores in the US market have recognized and embraced, but none in Asia have gone for this approach, according to Crespin. "Certain ecommerce players [in Asia] have realized the potential of the secondhand market, however they largely act as merchants only, without a real passion and love for the product itself."
In contrast, Crespin wants to build this business on genuine passion, creating a brand that has soul. With this in mind, the team is also building up in-house experts to specialize in different domains of the fashion industry.
"We want to establish a reputation for offering to the customer an assortment which is consistently and exclusively made of high-end quality pieces, and which are on-trend or of timeless style," she emphasizes. The team does this by employing strict standards of curation on every piece that is sent in.
Style Tribute 2.0
With a round of funding in hand, Crespin is looking to expand from Singapore into other countries in Southeast Asia. The investors, which have a wealth of experience in the technology/digital space, will provide assistance.
"But our main goal for the year ahead is really to grow our community of sellers and buyers across certain key Asian countries." The team aims to secure a second round of funding in the coming year.
A revamped version 2.0 of the website will be rolled out soon, which will feature a blog that will provide customers with fashion tips such as how to pair up items. The team will also launch a Style Tribute dashboard, where sellers can track their items on sale. They could find out which items are popular but not selling well due to being over-priced.
On the buyer front, they will soon be able to set alerts on coveted items and be informed once these items are on sale.
"Currently, there is no single dominant player in secondhand fashion, but I don't think it will last.

 I do believe there's a limit to the amount of players that can co-exist in this industry, as sellers won't keep switching from one platform to another one. They need one trusted platform to become their key partner," she says.