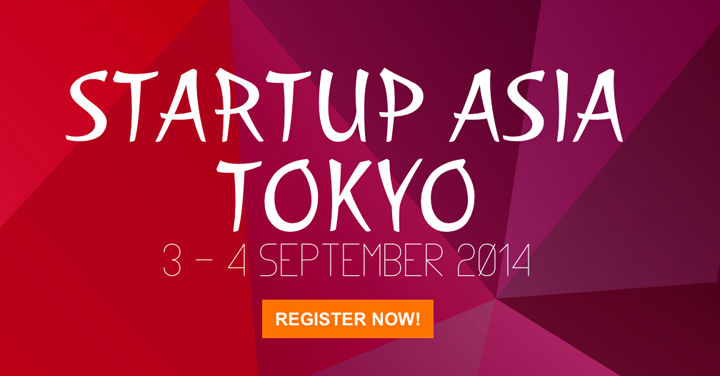 Startup Asia Singapore 2014 will take off tomorrow and we promise it will be a great conference. Our team has really put in blood and sweat to make it happen. Even before the show started, we were already thinking ahead. Our next destination? Tokyo, Japan and we are holding it at Hikarie, Shibuya.
We have been covering the Japanese startup ecosystem for the past three years. It's fascinating, mature, and unique in a good way. Every time I speak with Japanese entrepreneurs and investors I learned something. So how can we contribute to Japan if the ecosystem is already mature? It's quite simple, really. Our mission has always been about connecting the dots between tech hubs across Asia. Our newly formed Japan team is determined to connect the land of the rising sun with the rest of Asia. Period.
We plan not only to report what's happening in the Japanese ecosystem in English. We also want to ensure that we have an avenue to allow people to connect at a handshake-level. That is why we are bringing Startup Asia to Tokyo on September 3 and 4.
We have a lot to learn from the Japanese ecosystem and I believe Japanese entrepreneurs and investors would love to connect with like-minded folks in Asia. Plus, we believe 2014 is great timing as more Japanese corporations, with encouragement from the government, are expanding abroad.
Of course, we don't claim we can revolutionize the Japanese startup ecosystem. But we do believe that we are able to play a significant role in connecting the dots between Japan and Asia, just like we did in Singapore, Jakarta, Ho Chi Minh, and more.
Great speakers await
Startup Asia Tokyo lines up a series of very respected speakers. We plan to bring the best of Japan and Asia on stage. Some of our confirmed speakers at Startup Asia Tokyo 2014 include:
Tomoko Namba, founder and board member at DeNA
Horuhisa Okamura, founder and CEO at Adways
Yoshikazu Tanaka, founder and CEO at GREE
Paul Srivorakul, co-founder & executive chairman, Ardent Capital
Robert Laing and Matthew Romaine, co-founders of Gengo
Toru Tokushige, CEO and founder at Terra Motors
Startup Asia Tokyo also includes Bootstrap Alley where we showcase over 100 startups across Asia for investors and fellow entrepreneurs to find opportunities to invest and/or collaborate. We end off the Tokyo awesomeness with Arena, our startup pitching battle where we feature up to 10 growth-stage startups handpicked from across Asia to fight for glory and investments.
So remember, make September 3 and 4 available because Startup Asia Tokyo 2014 is on. Tickets are available here. Use our earlybird discount code <superearlybird> (expires on June 6, 2014) for a 25 percent discount.
We have more exciting news in the pipeline to share. Stay tuned!