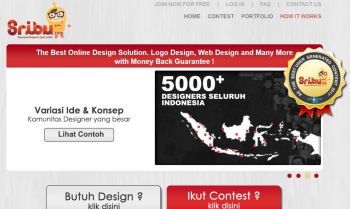 Sribu.com was founded back in June by Ryan Gondokusumo and has quickly become one of the hottest startups around in Indonesia.
It crowdsources designs almost for anything you can think of, from logos to t-shirt designs, brochures to calendars. We talked to its founder to learn more about Sribu.
---
1. What is Sribu.com? How does it differ from a service like 99designs.com?
---
Sribu.com is a crowdsourced design website between customers and the creative community. Crowd-sourcing is a concept of using a community of people to accomplish tasks traditionally performed by an employer or contractor. Aside from designs, we also do writing-based contests (brands, taglines) which is different from 99designs.com that solely focuses on designs. We are currently in the second stage of our web development and once it is done, the difference will be even more apparent.
---
2. How big is your team right now?
---
Currently we have five people on our team, and we keep trying to be as efficient as possible. Our business model relies heavily on automation.
---
3. Can you give us some of your key statistics or milestones so far?
---
So far we have around 30 contests on our site with logo contest as the favorites. Aside from logos, we have portfolios on calendar design, T-shirts, Business cards, naming, flyers, and brochures. In total,we have 13 categories of creative jobs to offer and which can be fulfilled by our creatives. Our customer satisfaction is close to 100 percent with most users loving the designs and using our service again. Our pool of 5000 talented creatives are happy with the current development and so far we have awarded around 70 million rupiah to them.
---
4. You've won a couple of awards already. Can you tell us a little about that?
---
It was an honor to win the SparxUp competition as the best user-generated content site. We gained tremendous exposure from the event which is very important in increasing our brand awareness. We are keen to participate in upcoming events similar to SparxUp.
---
5. What is your plan for next year?
---
Next year will be a busy year. We will focus heavily on monetizing the website while strengthening our customer service team to support it. In addition, we hope to launch our second stage of web development by early of next year which will improve our user experience greatly.
---
6. What is your opinion about the startups scene in Indonesia? How can it improve?
---
I have met with many entrepreneurs with amazing ideas or startups, and I believe if they are executed well they have the potential to be big. Attend events, get to know more people, talk to them, share your ideas and business models. It is always the best to get second opinions and advice especially from experienced mentors before you start making major decisions.
---
7. There is widespread belief that most of Indonesian startups are just clones of Silicon Valley's successes, what do you think?
---
People are always excited to see a new idea, but in my opinion being a clone is fine. Regardless whether the startups are clones or new, the most important aspect to make it succeed depends on the team who executes it. The advantage of being a clone is that the business model has been proven to work.