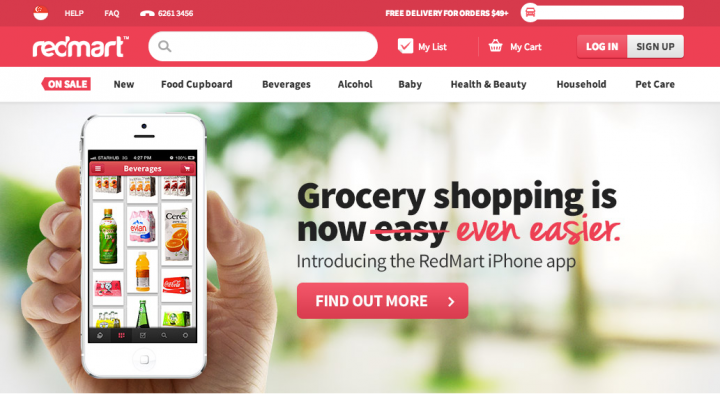 Singapore online grocery startup RedMart has raised US$23 million in a series B round led by Garena, with participation from Facebook co-founder Eduardo Saverin, SoftBank Ventures, and Visionnaire Ventures. The last two are first-time investors in RedMart.
"The company will use the funds primarily to build operational capacity to support future growth and expand its product range to include fresh food," the press release notes.
RedMart co-founder and CEO Roger Egan told Tech in Asia that the company will be ramping up delivery frequency to customers. The need to invest in infrastructure is especially pressing for the startup, since it's dealing with basket sizes consisting of over 20 items, much more than fashion ecommerce sites for example. It's also piloting warehouse automation technology developed by Hope Technik, a robotics firm in Singapore.
The startup currently has 200 staff and its revenue is growing 20 percent month-on-month. Egan did not disclose exact revenue figures.
In total, the company has raised US$27 million, including contributions from Pivotal Asia, a new venture capital firm headed by Shane Chesson and Hian Goh, who previously sold his company the Asian Food Channel. Also backing the company are Skype co-founder Toivo Annus, Singapore-based investment firms East Ventures and Golden Gate Ventures, and angel investor John Tan.
While a pioneer in this space, RedMart faces competition from dominant supermarkets like NTUC FairPrice and Cold Storage, as well as startups like GoFresh, started by Groupon Singapore co-founders Christopher Chong and his brother Karl.
See: Two brothers take aim at Singapore's online grocery industry with high quality food delivered to doorsteps