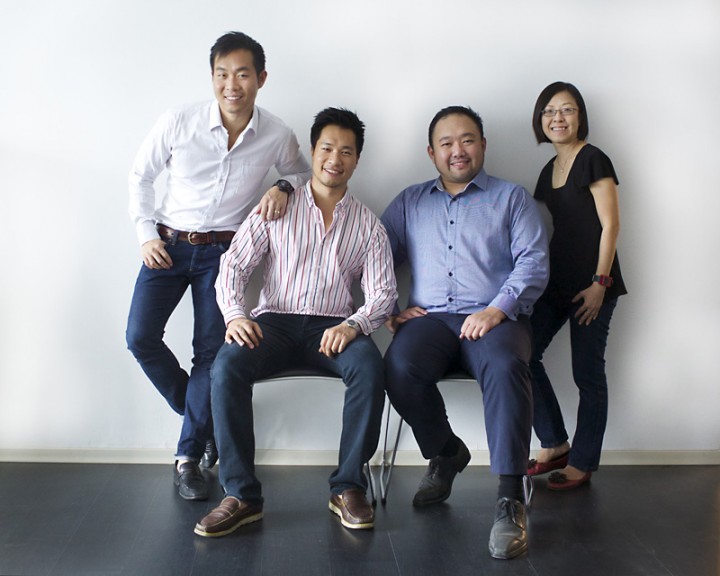 E-commerce startups in this day and age win if they can be one of the following: the fastest, the cheapest, or the most convenient (i.e. delivery to doorstep). Those at the head of the class naturally excel at all three – Amazon immediately comes to mind – and provide tough competition for fledgling startups attempting to enter and win the respective markets that they dominate.
Christopher Chong and his brother Karl, co-founders of Singapore-based online groceries platform GoFresh, are no strangers to fighting the good fight against giants. They jointly founded Beeconomic, known as Groupon Singapore today, back when competition in the daily deals industry was at its peak, and eventually even went as far as to surpass both Amazon and eBay to become the highest ranked e-commerce website in Singapore.
"We learnt to evolve the company strategy so that Groupon remained market leader in the fiercely competitive daily deals industry during our time with the company," recalls Chong. "Eventually, we were able to grow a team locally to over 160 staff across three offices." Beeconomic was eventually bought out by Groupon US for a reported US$24 million.
Looking to scratch that entrepreneurial itch, today the brothers are back in the game again – this time in the online groceries industry. The idea came about when the duo was dining with their current partner Julian Lee, who is a key supplier of seafood in Singapore to over 50 award-winning restaurants, including Jumbo Group and Crystal Jade.
We both felt an itch to start an exciting, new company that could really make a meaningful impact on peoples' lives. One day, while we were eating with Julian at his home, we wondered, wouldn't it be great if we could order meats and seafood from the comfort of our couch?
Thus, their new mission: to make shopping for meats and seafood more convenient and affordable for Singaporeans – through GoFresh.
Not the first
GoFresh is certainly not the first in this space. RedMart has been around for a couple of years now, and the platform has seen impressive growth since. However, Chong emphasizes that their core focus is on pleasing the discerning customer.
See: RedMart well on its way to capturing Singapore market, growing 20% every month
One way they are going about this is by providing high quality, premium products. "We want to be a one-stop shop for all fresh produce, but at the same time ensuring that our quality-assurance standards are kept high," explains Chong. "In fact, we are so confident in our produce that we offer a 100 percent guarantee – we call it the GoFresh Promise – which guarantees our customers' satisfaction with the products they purchase. If customers are unhappy with our products, we'll either make it good, or offer credits to them."
According to Chong, all their fresh produce are sourced directly from farmers and fishermen from all around the world, including oysters from Europe, and lobsters and crabs from North America and Australia.
Part of the company's mission is also to feature nutritious and healthy products. "We've found that a lot of our customers are health conscious – they care about the produce they buy, and value the time and money saved from ordering online."

As a bonus, GoFresh also offers next-day delivery free of charge.
With all these put together, it is clear that customer satisfaction is in the center of their plan to win the market:
We're laser focused on ensuring that, even as we grow the company, our customer service excellence is maintained or continues to improve. As such, a lot of our team's growth will likely be in customer service and customer experience.
At the same time, Chong reveals that he isn't so worried about the competition. In fact, he would very much like to partner with them.
Learning from past successes
The brothers' experience with Groupon Singapore certainly puts them in good stead. Already, they are putting the previous lessons they've learnt into practice:
We've learnt from our Groupon experience that keeping an exciting array of products on a rotational promotional basis will help give customers a reason to come back to our site. As such, GoFresh features exciting new weekly deals called "Fresh Deals" on quality meats and seafood that match or beat supermarket prices.
The largest challenge that they foresee, though, is in educating the customer on how best to utilize their service. One problem that many food delivery services have encountered is that the recipient might not be at home at the time of delivery. The result might be ugly and stinky, such as a box of meat rotting on the doorstep.
Therefore, reminding customers about the value of buying groceries online and getting them conveniently delivered to their doorstep is especially important to Chong. "We also give our customers a courtesy call before we ship our produce, to make sure it turns up to their door fresh and ready to be received," he adds.
Another obstacle that lies in their path to success is the notion – typically held by the older generation – that groceries are better bought fresh in the wet market. Unfortunately, only time can reverse this perspective, and Chong is determined to see it through:
By maintaining an exceptionally high standard in the way we select produce, package them for our customers, and carefully deliver them fresh to their doorstep, we hope customers can experience a whole new way of shopping – one that saves them time, money, and provides exceptionally fresh and nutritious produce.
The team is currently focused on improving their current selection of meats and seafood. In the near future, however, they will also be expanding to include fruits, vegetables, and artisanal food.
While expanding overseas is a possibility, Chong stresses that they are focusing on getting it right in Singapore first. GoFresh is completely self-funded at the moment, but is on the look-out for strategic partnerships to help grow further and faster.