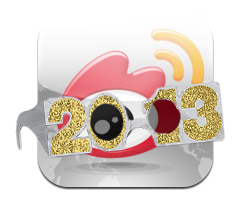 We already know that Asia is big into microblogging the New Year, with Tokyo and Seoul dominating Twitter over the holiday. But China's home-grown microblogging service Sina Weibo got in on the fun, too, and the company announced recently that in the first minute of 2013, Weibo users sent a whopping 729,521 messages.
That's an awful lot of messages per minute, you might be thinking, but how does it compare to the messages sent in the first minute of the Chinese New Year (Spring Festival), which is a much more important holiday in China? We'll have to wait and see what happens on Spring Festival this year, but the first-minute-of-2013 posts smashed the old record (set last Spring Festival), beating it by more than 50 percent.
The increased activity was due in part to a lot of New Year's Eve variety shows on television, but the fact that Weibo has significantly more users now than it did during last year's Spring Festival also certainly plays a role. When the confetti drops on the rabbit year this February, I expect this new Sina Weibo record to get broken.
[via Sina Tech]