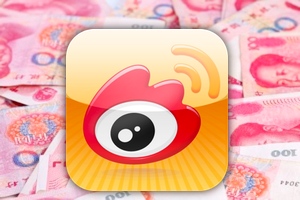 When Sina (NASDAQ:SINA), makers of the Twitter-like Weibo, launched its social gaming platform and virtual currency in July of 2011, it already had an online payments service in place so that it wasn't reliant on e-payment services created by its Chinese web rivals. That was called SinaPay, which is a lot like PayPal. But it looks set to get a major rebranding very soon, giving it the more socially-oriented name WeiboPay.
Whatever the thing is called, WeiboPay still has a lot of local competitors, with more established e-payments systems already in place from the likes of Alibaba (with Alipay) and Tencent (TenPay).
WeiboPay will soon get a new homepage at Weibopay.com, but for now that redirects to the older branded site at the not-so-catchy pay.sina.com.cn. But the remit of the online payment service remains the same, in that it can be used to pay for things like Weibi (Sina Weibo's own virtual currency) which is used for in-game purchases in many of its social games. Plus it's used to pay the developers who publish on the Weibo gaming platform.
One expansion in WeiboPay comes with its inclusion in the newly updated official Sina Weibo app – though for now its mobile usability is quite limited. But with rival Tencent looking to be taking its smash-hit messaging app WeChat into the territory of local deals and social payments, Sina can't afford not to develop WeiboPay into a more broadly useful service on smartphones.
Though Sina Weibo now has over 400 million registered users, it's proving hard to monetize, and Sina on the whole is over-reliant on revenues from advertising – a flakey business – on its web portal properties.
[Source: Sohu IT (article in Chinese); via Marbridge Daily]