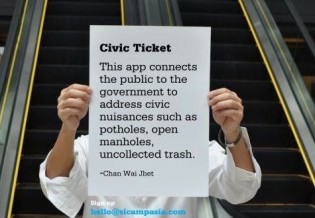 A little while back we previewed SI Camp Asia, a social innovations event that is to be held in Kuala Lumpur on November 9th and 10th [1]. At the time, the organizers were calling for ideas of how social problems might be solved through the creative use of technology.
140 ideas were submitted from all across Asia, but only six were selected for the Social Innovation Camp weekend, where the teams will work towards making them a reality. Here's a quick run down:
From here, SI Camp Asia needs to enlist folks who are eager to bring these ideas to life. And currently they are inviting developers, designers, and others to join the upcoming 48-hour event in November. So if you think you might be one of those people, you can apply here.
It's great to see an event organized around such ideas, because society as a whole can certainly benefit from these kinds of solutions. While none of them are have the goal of to be big money-makers, they do have the potential to solve real problems that affect lots of people.
So hopefully as a result of the upcoming SI Camp Asia, perhaps we might see some support for these initiatives from government, organizations, or businesses with similar interests.
---
We're delighted to say that TechInAsia is a media partner for this very admirable event.  ↩