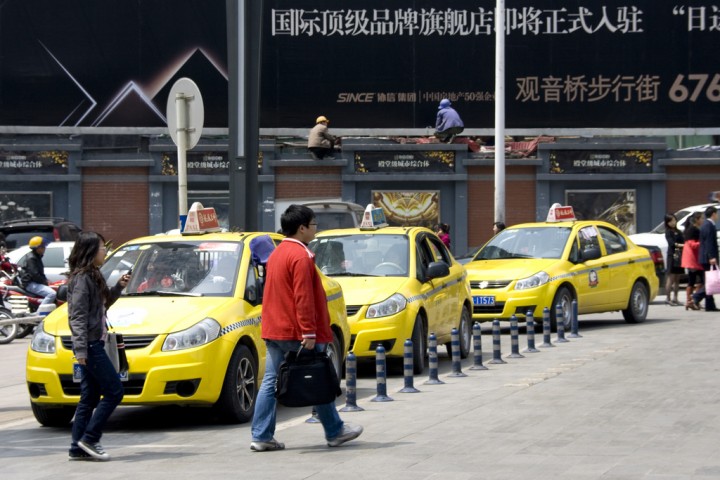 China's heated taxi-booking app war just got more complicated yesterday as the Shanghai Municipal Transport and Port Authority issued a new set of regulations that could make it more difficult to hail a cab from one's smartphone.
The government document (hat-tip The Next Web) states that popular taxi-booking apps like Didi Dache and Kuaidi Dache have increased the efficiency of snagging a ride but have affected drivers' ability to compete fairly. In particular, two regulations are worth taking note of.
First, the Shanghai bureau has banned the use of taxi-booking apps during peak traffic hours, from 7:30 AM to 9:30 AM and 6:30 PM to 8:30 PM. Drivers who are caught using the apps will be fined, and riders looking for a lift during those hours are encouraged to dial Shanghai's city-sanctioned taxi-booking hotline. In addition, drivers are not allowed to ignore ordinary street hails in favor of cruising around looking for bids from taxi-apps.
Of course, this will prove extremely difficult to enforce, so don't expect drivers to ditch the apps during rush hour anytime soon. Tencent-backed Didi Dache and Alibaba-invested Kuadi Dache are China's top two taxi-finder apps.
Second, the bureau has banned the use of transportation-booking apps for private vehicles that are licensed to carry passengers. If enforced, this would directly affect Uber's ability to operate in the city. The launched in selected Chinese cities, including Shanghai, late last year.
We've contacted Uber representatives in Shanghai, but  we've not yet received a statement on the issue.
See: 10 taxi apps you can use across Asia
Breaking down transportation apps in China
Uber's business model differs greatly from those of Didi Dache and Kuaidi Dache, but both present credible threats to Chinese taxi companies – in theory, at least. Uber's China operations thus far are limited to UberBlack, which connect private town car drivers with passengers looking for a ride. Priced only slightly above the cost of a cab ride, it increases the supply of cars-for-hire on the road and therefore threatens to erode business from taxi drivers. Payment wise, Uber takes a cut of the fare, while the remainder will be shared with the driver and his livery company.
Didi Dache and Kuaidi Dache, on the other hand, work only with licensed taxi drivers. While they don't necessarily increase the supply of cars-for-hire on the road, they nevertheless threaten to disrupt Chinese taxi companies by making drivers less dependent on dispatch services. As for payments, the driver keeps the entirety of the fare (along with a "thank-you" subsidy that comes out of Didi and Kuaidi's own pockets), while Didi and Kuaidi take nothing for themselves.
Despite earning steady revenues of RMB 0, Didi and Kuaidi have each raked in mountains of funding from China's tech giants. Didi Dache closed a $100 million funding round from Tencent earlier this year and was quickly integrated onto that company's WeChat messaging app. Kuaidi has received cash injections from Alibaba, China's leading e-commerce firm, and was recently integrated onto that company's mobile e-wallet app.
By refusing to take a cut of the fare, Didi and Kuaidi can more easily claim innocence if and when regulatory agencies accuse them of meddling with the taxi industry's status quo. Uber regularly points out that it only connects drivers to passengers and doesn't officially own any vehicles – while that's true, it still participates in a commercial transaction between driver and rider. By keeping their hands away from the money, Didi and Kuaidi are in an even better position to avoid all of the headaches that vested interests might have in store for them.
Will Uber feel the heat?
Uber's testy business model makes it extremely vulnerable should any Chinese municipality try to crack down on transportation apps. However, Kuaidi Dache and Didi Dache are already so deeply entrenched in Chinese cities that it's possible that regulatory authorities don't take Uber all that seriously.
Uber representatives told Tech in Asia that the company's completed trips during its first six months in Shanghai exceeded those of San Francisco and New York, though exact figures haven't been disclosed. The company also stated that it had a meeting with Shanghai transportation authorities, but to our knowledge, the company hasn't been singled out specifically in any public regulatory document.
(Editing by Steven Millward; top image via Flickr user pondspider)