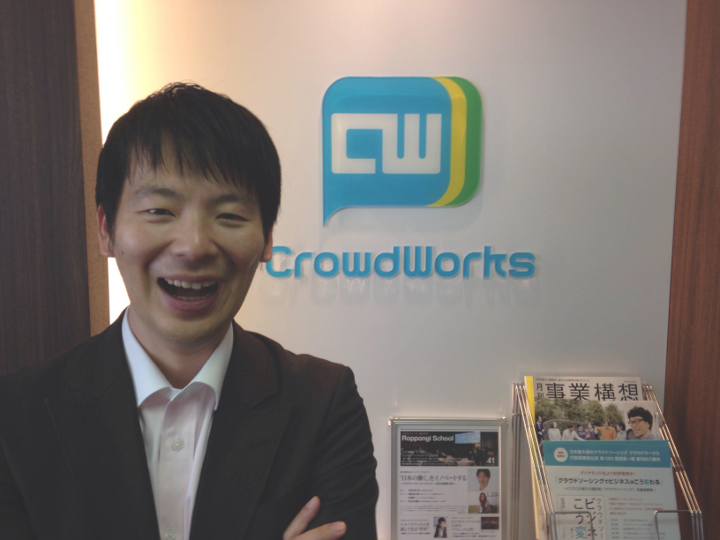 Koichiro Yoshida, CEO of Japanese freelancer marketplace Crowdworks, has thrown everything into his venture.
Before starting his firm, he liquidated his assets in order to give himself an extra mental edge. If he owned nothing to begin with, he would have nothing to fear losing. Two years later, his bold approach paid off. Crowdworks has delivered approximately US$110 million worth of client projects and has a current tally of 33,000 companies and 180,000 freelancers registered on its network. Yoshida's vision of the future? Conquering Japan and expanding throughout Asia, while keeping fear in the rearview mirror.
Known for his quick wit, Yoshida comes off as a natural born entrepreneur. He insists, however, that nothing could be farther from the truth. "When I was growing up, founding a company meant that you did not fit in and needed to drop out of society," he explained.
Entrepreneurship may have had a social stigma but that could not suppress his innate affinity for imagination and creation. As a child, he would physically make playing cards to be used for Monster Hunter-style card games and even develop his own mecha-inspired science fiction comic books. In college he became the leader of a theater troupe – writing, acting, building sets, and directing productions. He intended to make his career in the creative arts but he would soon learn how hard that transition could be.
Learning the first step of entrepreneurship – making the sale
Yoshida's dreams of earning a living in theater dissipated when he failed to follow through on the terms of a contract. He had been leading his troupe of thirty for six months in preparation of opening a play but, due to his oversight, the production was cancelled and he fell into debt. Though he blames himself for not being more careful, he believes that his failure was avoidable.
"In Japan, there is a strong culture of mutual support, but up through college, we don't teach kids much about the real world," he observed. Chastened by the experience, Yoshida grew determined to enter the workforce and become a proper businessman.
After graduation he entered digital entertainment conglomerate Pioneer and set out on his career as a salesman. Success at Pioneer translated into a management position at Reed Exhibitions Japan.
But by the time he turned 28, Yoshida's mind returned to his long-forgotten entrepreneurial ambitions. If he decided to abandon his current executive-track career path would he be considered just another guy who couldn't cut it in Japanese society? Yoshida had his doubts. "My parents said that entrepreneurs were dropouts but every company needs a founder. Are all the founders of [major companies] JAL, ANA, and Sony dropouts?"
Always get back up
Yoshida's early forays into entrepreneurship were scattered and unfocused. He took a crash course in entrepreneurship and business development at Attackers Business School, a local school for would-be entrepreneurs that counts tech luminaries like Kenji Kasahara, the founder of Mixi, among its alumni. True to his new alma mater's name, his entrepreneurial assault was nothing if not aggressive.
Prior to hitting a winner with Crowdworks, Yoshida had founded and managed thirteen different enterprises, some concurrently. Due to his gifts as a salesman, he was generally able to keep the businesses afloat but was not able to scale them into a stable entity. Yoshida's most ambitious gambit? Angling to build a planned city in the middle of Malaysia. That plan was ultimately shelved when he blanched at the expected 60-year completion time.
The youthful optimism of his early days are not lost on Yoshida. "If I think about it now, maybe I was a bit foolish… but I wanted to give it a shot, " he said, also noting, "If you think through everything logically, you will likely predict your own failure and decide not to start."
Building a winner
Crowdworks began when Yoshida realized he could take advantage of a rising interest in crowdsourcing to return to his lifelong love of working with creators. Upon its debut in March 2012, Crowdworks was almost an instant hit, gobbling up funding rounds of US$3.75 million in October 2012 and a further $10.7 million in December 2013. Yoshida credits that success to very calculated preparation prior to the service launch. Unlike most entrepreneurs who build their service, show it around, and then adjust in accordance with customer needs, Yoshida wanted to have a service that was ready for customers from day one.
The early Crowdworks team spent three months just convincing freelancers to register with the service. Anytime they managed to snag a really strong candidate, they put his or her picture onto the homepage. When business side clients would come to the site, they would be greeted by a tapestry of talented individuals from various fields and backgrounds – a hint of what was to come. When the service finally opened, Crowdworks would take no commission if the customer was dissatisfied with the project results. As Yoshida puts it, trust was more important than money.
After the launch, Yoshida put the next step of his plan into motion. At the time, freelancers mainly served individuals, while corporations still did projects in-house or hired an outside firm. Yoshida knew that he had to change that thinking. He felt that his competitors were putting their energy into engineering and basic user expansion. While not diminishing the importance of those aspects of business development, Yoshida was convinced that he had to target established companies in order to become a major player.
"In Japan, and this is a little strange to me too, small- and mid-sized companies tend to look at big companies when deciding what contractors they should use," he explained. The plan to expand worked and Crowdworks has multiplied its client base more than a thousand times over.
What next for a man without fear?
The company's rapid growth has done nothing to slake Yoshida's ambitions. He quickly notes that his 33,000 corporate clients are a drop in the bucket compared to the more than three million corporations in Japan. His first mission is closing that gap and becoming the Japan market leader. He is also quite mindful of the potential posed by Southeast Asia, citing Vietnam, Thailand, and Indonesia in particular as countries which could be good targets for expansion.
And after that? Yoshida hemmed a bit on making any concrete promises, but he hopes to receive at least US$100 million during his next round of funding to get things going. To an outsider, this goal might seem harebrained, but like Yoshida says, sometimes logic only limits what a person can accomplish.
See: Flipkart launches budget smartphones in India, beats Mozilla and Google to the punch