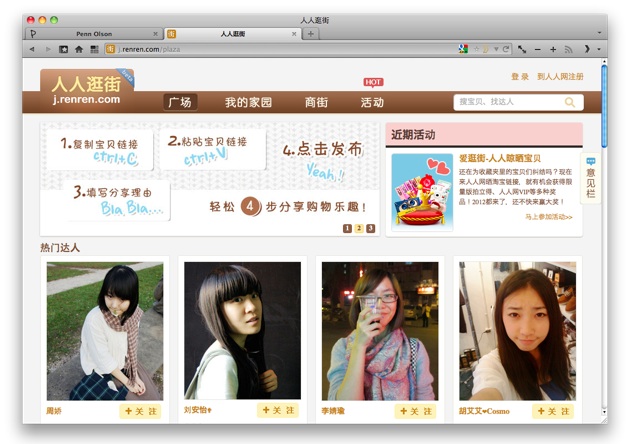 Renren (NYSE:RENN), China's biggest Facebook-like social network, has today launched a social pinboard and sharing website called Renren Plaza. As with the US service Pinterest, it allows users to post up items that they like – typically clothes, gadgets, and random cute things – and then discuss or 'like' them.
And so Renren Plaza consists mainly of theme-based image boards created by users, such as the ones shown below. There's also a microblog/weibo element to the site, as it has a system of followers and direct messages that's separate from one's main Renren profile. This allows Plaza users to share images and thoughts without total access to more personal information that might be inside their regular accounts.
Importantly, most items have a 'go buy in the store' link which leads to the item on an e-commerce site – usually the consumer-to-consumer Taobao.com, which is owned by Alibaba. This could help turn Renren Plaza into a nicely curated storefront for especially cute things that people are selling online. Or it could just lead to spammy sellers using it as free advertising. In contrast, Pinterest tends not to have online store links, and so is more focused just on sharing images.
In addition, there's an 'avenue' section where you can browse trending boards or a certain category of images, such as Korean-style clothing, or home decorations.
This is the first major new development from Renren for quite some time. The site listed in the US last May where it went from a brief high of $20 per share down to its current $3.85. We've contacted Renren HQ to hear their aims with this new Plaza feature, and will update when we get a response.