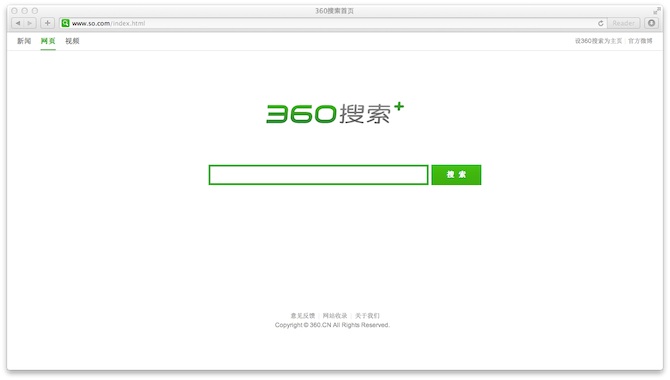 Earlier on today, Qihoo 360 announced the new domain name for its very controversial search engine that was launched in August. And there it is: www.so.com. According to Qihoo CEO Zhou Hongyi, this domain name doesn't come cheap – it cost the company "millions" to get hold of it (though we're not sure if he meant Chinese RMB or American dollars). It is understandable, I guess; so.com is so short, easy to remember and I'm sure that's what Qihoo is going for.
Zhou explained that besides So.com being short, 'S' stand for "safe" and 'O' stands for "open" in English. That's in line with what Qihoo, which started out in the anti-virus business, is mainly selling and promoting: security.
When 360 Search launched, they used the rather awkward "so.360.cn", and they changed it a couple of times along the way. They had domains like "360sou.com" and also "360so.com". Furthermore, So.com was only decided after a long discussion and debate among Qihoo's management. Zhou commented on his Weibo account, saying that the more trendy staffers in his office prefer so.com because it's short and easy to remember; the more traditional ones prefer sou.com as it is the proper pinyin (Anglisized) version of the word "search" in chinese. And there are those in the neutral camp who couldn't make up their mind on which is better, and suggested Qihoo.com.
I would reckon that So.com should be the finalized domain name for Qihoo 360 search, as Zhou would like to focus on the users' experience of its search engine. As for the next move, Zhou said (translations are mine):
We will be focusing on commercializing 360 Search as our next move. To commercialize would mean users should have the right to receive good and accurate search results. […] We need to clearly separate the advertisements from the search results.
Qihoo 360 president Qi Xiangdong, citing the latest survey report released by iResearch, said today (translations are mine):
Since the launch and up to September 9th, 360 Search has captured 11.05 percent of the [online search] market share [in China]. We are not too concerned with the market share actually, we are not necessarily aiming to become the number one in this market.
Whatever it is, so.com is a good start in its battle against Baidu, Google, Sogou (owned by Sohu), and Soso (run by Tencent). Notice that Qihoo's "So" is shorter than, but similar to, Tencent's Soso. It's indeed easy to remember and that should help many of its users to continue using the search engine.
[Source: Techweb; via TechinAsia Chinese]