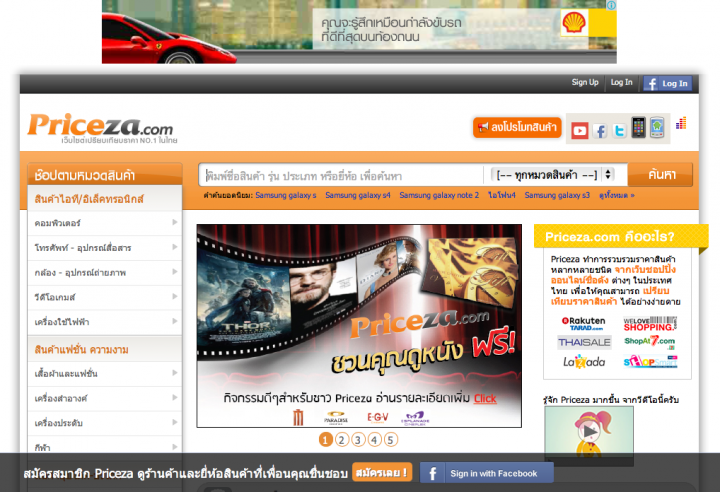 CyberAgent Ventures' investment in online price comparison site Priceza marks the first investment in Thailand for the Japan-based VC. Although the amount is undisclosed, it's rumored to be around $1 million.
However, the amount of money is not what interests me most. The moment I heard about this investment, I asked myself: what's in it for them? As I remember, in my conversation with Thanawat "Wai" Malabuppha, the managing director and co-founder of Priceza, less than two weeks ago, he did mention that:
Priceza is open to strategic investors or partnerships to help it grow faster. The company doesn't only want money from investors.
So what's the strategic partnership he's talking about? When asked about how CyberAgent can contribute as the company's strategic partner, Wai explained:
Cyberagent Ventures has several networks in many countries. We can use them as our case studies. Moreover, partnership for regional expansion is crucial. We will utilize Cyberagent networks for regional expansion also.
Currently, Priceza is a team of 17 people, serving more than 3.8 million visitors per month.
Priceza's MD explained that he considers this round of funding as Series A. Therefore, he would like to use this money to build a stronger base for the company. That means Priceza will use the money to expand the team in order to provide the best service and content for users. High quality content and service is the company's main focus right now.
Wai added more about his team:
We will try to provide resources in any way to boost morale and power of our team. A new office is also being considered.
Since Priceza just expanded to Indonesia, I asked if this funding means the site will be available in another country soon. Wai explained:
As for the regional expansion, Thailand is our focus market and we will expand to more countries only when we are ready.
As for CyberAgent Ventures, Dzung Nguyen, the VC's head of Vietnam and Thailand, also said the company is a strategy VC. Therefore, it's not only money that the company invested in Priceza, CyberAgent Ventures will leverage various resources of the whole group throughout Asia to accelerate Priceza's growth. As for the VC, this is CyberAgent's latest footprint on the South East Asian market.
(Editing by Paul Bischoff and Josh Horwitz)