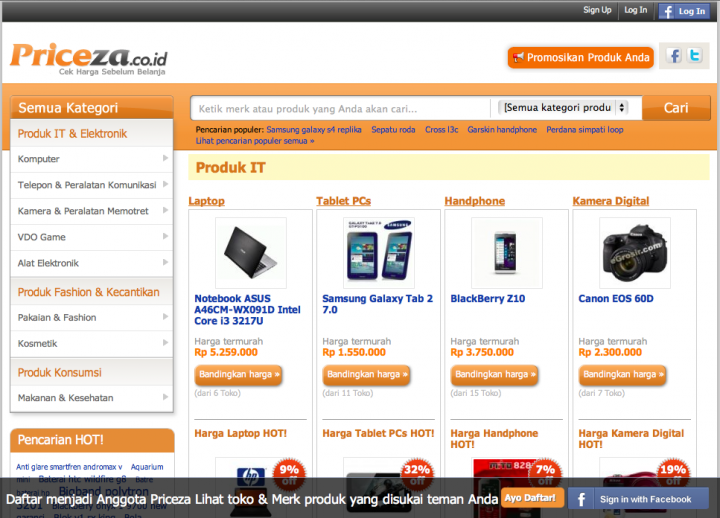 Online price comparison is very competitive in Southeast Asia. There're players like Rocket Internet's PricePanda, Telunjuk from Indonesia , and Priceza from Thailand. Despite the challenge, Priceza isn't fazed. In fact, it has just expanded beyond Thailand to Indonesia.
Launched in late 2009, the Thai site has over 1.2 million monthly unique visitors as of August last year, says Thanawat Malabuppha, Priceza's managing director and marketing director. Now, it has some 2.5 million active unique visitors per month. These are users that are actually doing price comparisons on the site.
The company is optimistic with the Indonesian expansion due to the growth in users.
Expectations for Indonesia
When asked about the reason behind Indonesian market expansion, Thannawat responded:
Indonesia is a big country in term of the population. The number of internet users is double that of Thailand. It also has big growth potential. I visited Jakarta last year in July 2012 for Online Shopping Tour (organized by IdeoSource) in Jakarta and I found that many of the e-commerce players in Indonesia have the same models with those in Thailand. I can map e-commerce players in Indonesia to players in Thailand market. I believe that what we have been doing in Thailand can be applied to the Indonesian market as well.
To drive Priceza.co.id's growth more rapidly and gain credibility and trust from locals, the company is hiring local staff and will open a Jakarta office at some point. It is already seeking a country manager. There are 17 employees in the Bangkok office right now.
The Indonesian version of Priceza doesn't have a mobile app for now. The company is looking into it but wants to focus on its website and mobile site first.
Competitors
Tech in Asia asked what's Priceza's positioning versus the strong local competitors. Thannawat said that while PriceArea and Telunkjuk are prominent local players in the market, he has heard from local startups that no one is dominating and number one to consumers yet.
Fast execution is what matters most in the internet business. So we want to just do it and try our best to create the best price comparison service for Indonesia consumers.
Partnerships
Thannawat explained the company's partnership strategy further:
We are on our own at this stage. As a next step, we surely need to partner with a local company. Currently, we have a business development manager who can communicate in Bahasa Indonesia working in the Bangkok office to take care of overall marketing.
Although, Priceza is not yet backed by any investment firms, it's open to strategic investors or partnerships to help it grow faster. The company doesn't only want money from investors.
In the future, Priceza plans to expand its service across the rest of Southeast Asia. But for now, it is still focusing on its primary market, Thailand.
(Photo Credit: thumbsup.in.th)
Editing by Terence Lee