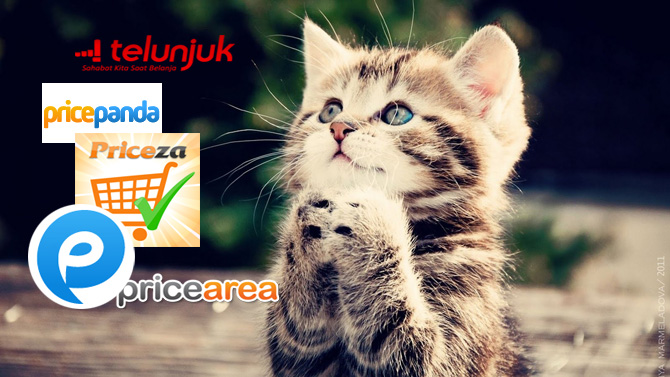 The price comparison site battle in Southeast Asia is heating up. OK, maybe the battle isn't in full swing yet. But the online price comparison space is definitely getting a little crowded in Southeast Asia.
You may ask, "What's an online price comparison site?" It's basically a site that compares product prices across different e-commerce sites. The prices listed from various e-commerce sites are taken by crawling or through using XML feeds or APIs. The end result is that users can see which site offers the best price for a particular item.
Even though most of the online price comparison sites are operating locally, the big boys like Japanese Kakaku's PricePrice and Rocket Internet's PricePanda are covering pretty much all of the region's key countries including Indonesia, the Philippines, and Thailand. Other local players include Priceza (Thailand), Telunjuk, and PriceArea (Indonesia) (1).
What do local price comparison sites think?
With Kakaku and Rocket Internet getting into this space, Redya Febriyanto, founder at Telunjuk, a price comparison startup based in Indonesia, appears to be happy. He believes that with more players coming in, it's a good sign that Telunjuk is in the right direction.
Telunjuk is currently enjoying a 20 to 30 percent growth rate but declined to share its user numbers in absolute figures. We've heard rumors that Telunjuk is in the process of receiving a round of funding; Febriyanto confirms that talks are ongoing but did not give any other details.
While Telunjuk can be used as a price comparison site, Febriyanto doesn't really see it as one. He told me:
We see Telunjuk as a collection of shopping tools. We are here to help people find things to buy and it isn't necessarily based on price. Therefore Telunjuk's tagline is: "Sahabat kita saat belanja" which translates to "Our best friend in shopping."
PriceArea, Telunjuk's homeground competitor, doesn't just really see price comparison sites like Kakaku or Rocket Internet as competitors either. Rather, Andry Suhaili, founder of PriceArea, has concerns about sites like Blibli and Tokopedia, both of which are local Indonesian e-commerce players. He explains that both sites have connections with merchants and also have comparison features and might possibly "have PriceArea's model anytime they want."
Currently, PriceArea gets around 60,000 daily visits and has 50,000 registered users. Suhaili told me, "In the end, whoever has the largest number of users will win the game."
Moving north to Thailand, Priceza's founder Thanawat Malabuppha has the same thoughts as Telunjuk. He sees the entry of Kakaku and Rocket Internet as a sign that Thailand's e-commerce market is ready. Plus Malabuppha believes the presence of Kakaku's PricePrice and Rocket Internet's PricePanda will help to drive e-commerce mainstream. He added:
As for the competition, we will still focus on two things: delivering the best shopping information to end-users and boosting more sales to merchants.
Priceza currently enjoys about 80,000 daily visits which seems to have doubled since we last spoke to Malabuppha.
Rocket Internet's PricePanda speaks
PricePanda's co-founder, Christian Schiller, says that Indonesia is providing good growth so far. Besides Indonesia, PricePanda also has operations in Singapore, Malaysia, and the Philippines. Singapore and Malaysia are the first landing spots for PricePanda as Schiller believes that there are more e-commerce activities there. So far, there's no sign that PricePanda is in Thailand, but likely will be soon. On competition, Schiller commented:
Every price comparison service has its own history and therefore different strengths and we keep a close eye on the development of our competitors. But we are confident that PricePanda is well positioned with our tech driven team and the online marketing know-how from the Rocket Internet Portfolio to provide a winning price comparison service to users and online shops in Southeast Asia.
PricePanda declined to talk about user numbers.
Could Alibaba's eTao enter Southeast Asia?
For those who don't know, eTao is a product price search site under China's Alibaba Group. That company already has over 500 million registered users as of mid-2012 on its own e-shopping sites, but Alibaba insists that eTao is an unbiased and inclusive product search engine for all Chinese online malls. On top of price search, eTao also provides rebates, coupons, group buy search, etc. As the largest price comparison site in China, eTao has more than one billion product listings and over 5,000 business-to-consumer and group shopping websites indexed.
In my last article, I speculated that eTao might, just might, enter Southeast Asia. When asked, an eTao representative told me:
At this time there are no plans for an English or Bahasa Indonesian eTao but we don't rule out these possibilities in the future should users demand this type of service; at this time, the majority of our users are within Greater China and our primary focus at this time is on fulfilling consumer requirements in these regions.
Despite the fact that eTao is now only available in Chinese, it currently also indexes e-commerce websites from Hong Kong, Taiwan, and Korea and is also open to indexing other e-commerce sites elsewhere.
Trend oh trend
A couple of years back, we saw online shopping sites mushrooming across Southeast Asia. When the trend died down a little and players consolidated with the good ones remaining in the game, it opened an opportunity for price comparison sites to rise.
Consumers demand them because there are just too many e-commerce sites to compare and visit. But which online price comparison site will users likely visit most? Will the local players be able to beat the giants? Grab your popcorn and 3D glasses for an epic showdown in the years to come.
---
Disclosure: East Ventures is an investor in PriceArea and Tech in Asia. Please see our ethics statement for more information.  ↩