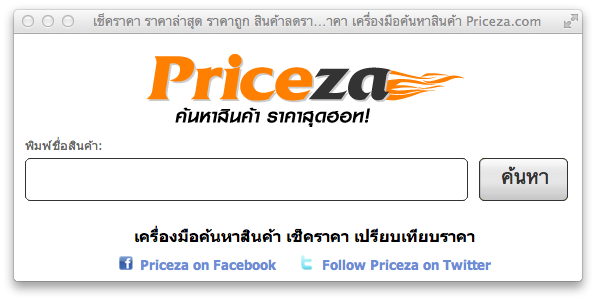 Price comparison sites are sort of a proven internet business model. Take for example Japan's Kakaku.com (see a video tour here)which is one of the earliest examples of such a service. Alibaba Group's Etao.com seems to be getting a lot of traction too. So it's not a surprise to know that Thailand has its own price comparison site. It's called Priceza.com, and apparently it is gaining a lot of traction too, claiming to have over 1.2 million unique visitors per month.
The startup was founded in January 2010 by a group of computer science engineers. And back then, co-founder Thanawat Malabuppha said that there were a lot of ecommerce sites popping up in Thailand. He told me:
Many small businesses set up online shops easier than ever with ecommerce website packages. More and more online shops opened daily and we saw that the pain of consumers arise. There are too many options for them to compare prices and products easily. From that starting point, we decided to help Thai consumers to shop online easier and we [set out] to provide the most useful information to help them make more informed online and offline shopping decisions.
And so the idea of Priceza was born. Today it crawls over 10,000 ecommerce sites including international ones like Tarad.com (Rakuten), Shopping.co.th (partly owned by Tencent), Lazada and Zalora (Rocket Internet) to local sites like Toheme.com. Thanawat claims to be profitable but declined to disclose Priceza's revenue model. Thanawat and his two other co-founders, Wirod Supadul and Vachara Nivataphand, haven't received any investment which I thought is quite admirable.
The Priceza team is just 10 people so far, so on average each employee is accountable for 120,000 unique visitors each which is quite a big deal considering Priceza is website built for Thais only.