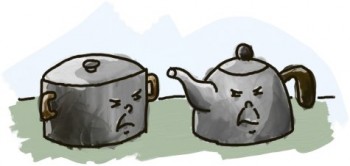 Just a year or two ago, Alibaba's Alipay was really the only game in town when it came to online payments in China. It dominated its competitors, and had the luxury of being associated with Alibaba's e-commerce platforms Taobao and Tmall, which also dominated China's e-commerce market. These days, although Alibaba remains on top of its perch, competitors are emerging, especially in the mobile space. Tencent's WeChat looks to be the strongest potential contender at present, having added a mobile payments system as it shifts toward deeper integration of e-commerce.
It is perhaps in this context that we can best understand the harsh statement made this week by Alibaba banking services director Fan Zhiming, who said of WeChat Payments: "WeChat friend circles have already become a haven for the sale of counterfeit items." Chen Dawei, the head of Alibaba's financial research institute, added that while Alipay has been doing e-payments securely for a decade, WeChat's payment system is unsafe because everything is bound to the same account and thus easy to steal. "If you don't have the drill, don't make your living fixing porcelain," said Chen. The idiom's apparent meaning: don't take on work you don't have the skill to complete.
The verbal blasts come at the same time as the launch of the latest version of Alipay's e-wallet, and as the company is preparing to broaden and strengthen its offerings in banking. It's not too difficult to understand why WeChat, a growing platform with 400 million users, moving into e-banking and e-payments might concern Alibaba's leadership. But it's difficult to understand why the company thought accusing WeChat of being a platform for the sale of counterfeit goods would be a good place to start. Taobao may have been removed from America's official naughty list, but there are still plenty of knockoffs and counterfeit items for sale on the platform. (If you don't believe me, try a search for any major band, film, TV show, sports team, or clothing brand. You're likely to find more than a few items that are priced way too low to be officially licensed products).
Still, this is probably the way it's going to be from now on. As competition in the e-payments arena continues to heat up, it looks like we could see a war of words (and perhaps eventually lawsuits) just as ugly as the one that has erupted in the search market. Personally, I hope things don't work out that way, but with the heat rising, a little bit of mud-slinging may be inevitable.
As for Alipay's claims about the safety of WeChat's payment platform, only time will tell. It's true Alibaba has a much longer record of safe online commerce transactions than WeChat does, but Tencent has been accepting payments on its game platforms for quite some time now, and it is likely to have put quite a bit of thought into WeChat's security.