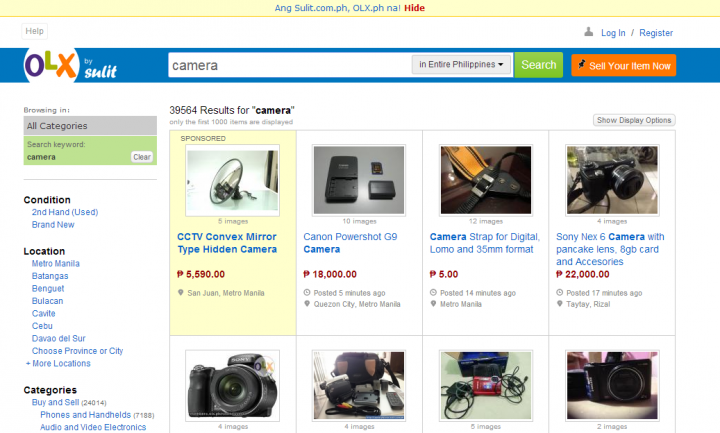 Philippine classified ads leader Sulit officially announced today that it has rebranded to OLX, moving from the Sulit.com.ph URL to OLX.ph. This follows the earlier merger of Philippine classified ads site Sulit with OLX in December.
Starting today, those who try to access Sulit will be redirected to the new portal. The change brings all its existing users, including the posted advertisements, to the new platform without the need to re-register.
When asked if this was an acquisition, Sulit founder RJ David says that it is simply "a change of brand" and he, together with co-founder Arianne David will still be leading the new OLX Philippines. The rebranding welcomes a bigger number of advertising posts, not only limiting the advertisements for merchants and entrepreneurs, but also any individual who wants to sell pre-loved items on its platform. The announcement says:
The name change to OLX aims to inspire Filipinos to re-think what they know about Sulit, and to re-think what they have to sell online. The name OLX originally came as an abbreviation of the phrase 'online exchange'.

The name change represents our commitment to change how Filipinos perceive online selling.
On OLX.ph, you don't have to be a merchant or an entrepreneur to be able to sell because OLX.ph is for everyone.
(See Also: Classifieds site Sulit redesigns its ad filtering system following uproar from its users)
David says OLX gives "more value to items users are no longer using, or on things that we called 'untapped wealth' because someone somewhere can actually benefit from it." This is parallel to the earlier refocus of then-Sulit to give priority to users selling secondhand items. Needless to say, the number of changes seen on the website has preparation Sulit for this. Between September and now, the classifieds site saw around a 30 percent increase in total used item advertisements, making up 50 percent of the total. It expects that in the next six months, 75 percent of the total advertisements will be comprised of used items.
Along with the rebranding, it will also extend its customer service support, making it available 24/7.
As of January, Sulit reports 2.6 million registered users on its platform.