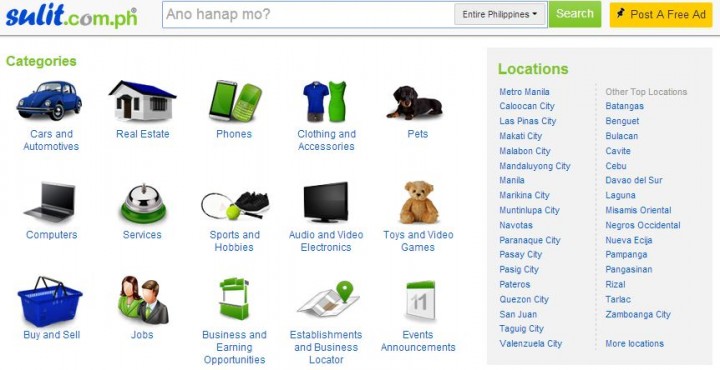 Last week, we noted how Philippine classified ads site Sulit is making some notable changes. Following this, its founder RJ David shared with Tech in Asia the logic behind the site's evolution and the direction it plans to take.
One of the most notable changes users saw recently was how Sulit's newly-implemented filtering process, which some described as burdensome. David explained that this was due to a server migration it conducted on January 17. He says:
We started the migration of our servers from the old data center from the US to the new one in Hong Kong. This is in line with our goal to provide a fast and easy buying and selling experience. Having our servers in Hong Kong means improved latency and the new servers available for us are customized to our needs wherein we expect better performance.
The transfer unfortunately had some technical hiccups along the way and this regretfully affected some of our operations. This resulted for some of the ads to be under review longer than expected. […] The migration issue has been solved since January 20 and our site has seen the best performance ever.
Ads that sell
David reiterates that "Sulit's main goal is to connect Filipinos through a fast and easy buying and selling experience." So the team collected data on the behavior of both buyers and sellers on its platform and came up with an ideal ad template that will make it easy for sellers to sell their product. This is said to be part of the reason for implementing the review process – to help them sell their items by adhereing to a set of standards. For example, David notes that an advertisement featuring real pictures is ten times more likely to result in a final sale than an advertisemet without pictures. So when necessary, Sulit will notify a user and instruct him or her to upload a photo together with the advertisement.
Sulit has also implemented a new duplicate ads engine which "prevents ads with almost similar content from being posted on the site." David says that duplicate ads have been a big turn off for potential buyers and don't provide any extra value. With all these improvements, Sulit's data has already shown a 180 percent increase in transactions this month compared to last June.
New focus
Sulit also wants to develop a reputation for facilitating sales of pre-loved items. Prior to the site's revamp, a number of sellers had used Sulit to sell both second-hand and brand-new items. Even brick-and-mortar businesses use the platform market themselves to Sulit users. However, with this shift, David says that "users must expect that Sulit will focus more on pre-loved items. Our target this year is to make all Filipino adult internet users aware that they have pre-loved item to sell." He adds:
The brand-new option is not going to be taken out but pre-loved items will be our priority. We expect that pre-loved items will dominate future listings on Sulit, making up 85 percent of the total items listed by the end of this year. For buyers explicitly looking for brand-new items, they can always use our search filters to display only brand new items.
David highlights that making continuous improvements on the platform has been part of its main goal since it launched in 2006, and it's something that they will keep doing for its more than 2.6 million registered users moving forward.
(Editing by Josh Hortwitz)