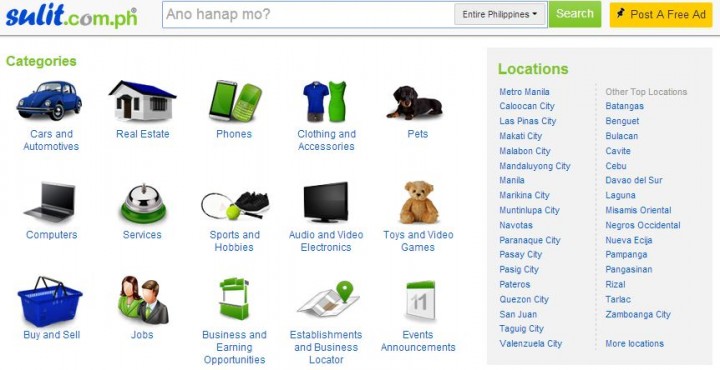 Last November, the Philippine classified ads site Sulit announced on its forums page that it will start screening items posted on its website. This caused users to clamor that it took hours or days before a listing received approval. In light of these complaints, it looks like the classifieds site is now attempting to appease its customers, while it meanwhile tries to achieve the original intentions of the new policy.
Complaints against the filtering were expressed by users on the site's forum and its Facebook page. Sulit users didn't object to the filter, but rather that the new policy meant they had to wait for an email notification telling them if their ad had been approved or not. Now, Sulit has implemented a more efficient system, which, upon receiving submissions for ads, immediately prompts the user and identifies the errors that need to be fixed.

Indeed, this improvement lets Sulit continue to filter posts, while ensuring that users can post listings just as efficiently as always.
Last month, Sulit announced that its already a part of OLX network after a merger that has been finalized. Once word of the deal got out, many expected that Sulit would implement some changes in its service. This indeed appears to be the case. Last Sunday site visitors on Sulit either received error messages or faced sluggishly slow speeds for hours on end. On its Facebook and Twitter accounts, Sulit announced that it is website was "currently undergoing some system upgrades and internal configurations." One post read:
Sulit.com.ph has now fully migrated to a new data center that will provide our users with a faster and reliable service.

This migration started on January 17, 2014 (Friday) at 2:00 AM causing an 'Internal Server Error' page to appear on the site. As with any of our system enhancements, 100% of Sulit.com.ph member accounts and ads are fully secured. All website features are being closely monitored by our engineers to ensure everything is functioning properly.
Filtering posts to ensure that all listings are accurate and properly tagged definitely improves the overall user experience of Sulit.  It reduces the likelihood of deceptive listings, abusive comments, and repetition. Coupling this with more a user-friendly interface might help Sulit draw even more customers. For now, however, other than filtering listings, we're unsure of what other changes Sulit might implement.
(Editing by Josh Horwitz)